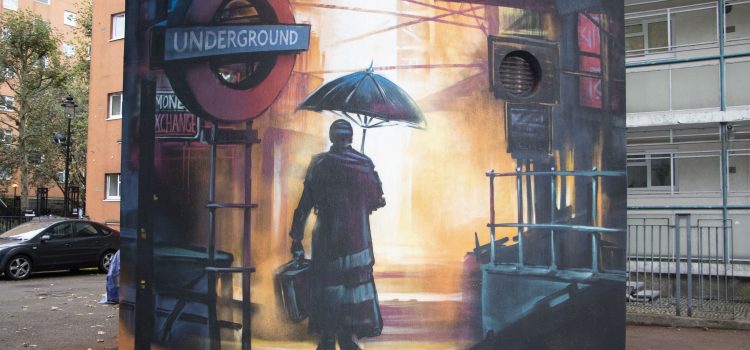 Internationally acclaimed graffiti artist Mohammed Ali is painting an art mural in Bloomsbury's Cromer Street, entitled A Few Pounds in my Pocket. The mural brings together local people to create a thought-provoking piece of public art in a residential estate, minutes away from London's King Cross.
Opening on 13 October just ahead of Bloomsbury Festival's major event, Cromer Street Welcomes the Moon, this mural will be the first major art work within this north east area of Bloomsbury. Mohammed Ali's art, with its uplifting message, seeks to tell stories of the lives of people who live in the area. As he says "street art brings life to the concrete jungles that we live in".
To find out more about A Mural fro Cromer Street and the stories behind the artwork click here
The British-born artist has produced murals in New York, Chicago, Melbourne and Dubai, is a winner of the South Bank Award and has been featured on Al-Jazeera, BBC, New York Times and in many others prestigious publications.
This project is part of Bloomsbury Festival's One Square Mile project. Funded by Arts Council England, One Square Mile is a two-year project through which we want to connect superb artists with culturally disenfranchised residents and academic specialists to make compelling, highly visible Festival projects that respond to the Festival's 2019 and 2020 themes.
FREE – Just Turn Up
A Bloomsbury Festival Production
A Mural for Cromer Street – Mohammed Ali