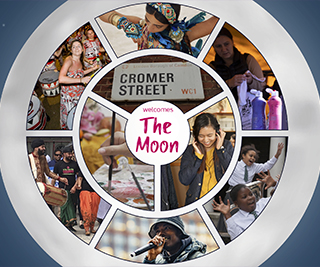 Bloomsbury Festival and Camden Alive present a creative family street party.
On the night of the full moon Luke Jerram's Museum of the Moon is revealed in Holy Cross Church. Cromer Street celebrates with music, dance, exhibitions, activities and a host of food stalls.
A creative street party for everyone to enjoy, Cromer Street Welcomes the Moon presents some of the best local talent on the traffic-free street and popping-up in shops, arts, and community spaces. Listen to captivating Bengali music, make your own moon creations, celebrate a new mural by Mohammed Ali, enjoy performance poetry and rap, and a fabulous new dance from Westminster Kingsway students choreographed by Suba Subramanian. Plus much more!
At 6.30pm as the sun-sets and the October full moon rises, join a lunar inspired parade led by Argyle School as it winds its way along the street.
FREE – Just Turn Up
PLUS
Holy Cross Church:
1pm-8pm Museum of the Moon – Luke Jerram
2pm Mishteaze – The Land of Sweets – Indrani Datta Dance (Kathak)
3pm Shuffle, The Place's junior youth dance company perform a new work created with director Ihsaan De Banya
4pm Drawing Workshop Under the Moon – Sunny Arts Centre

On the Street:
A MURAL FOR CROMER STREET – from 4pm
A new art work by internationally acclaimed street artist Mohammed Ali.
MUSIC STAGE – from 4.15pm
Stars of UK Bangladeshi TV channels Iqbal Bahar, Perama Newaz and Suhel perform throughout the afternoon.
from 4.30pm
POP-UP STAGE – from 4.30pm
Camden's own Boss B & Brownsilla perform new tracks from their upcoming album, inspired by working with the Camden Archives and Camden Alive. Plus Conrad Murray, from hip hop theatre company Beats & Elements, will host a free beatboxing workshop open to everyone. Expect lots of laughter, fun and surprise yourself by making beats with your voice! With Camden Alive and Camden People's Theatre.
PARADE – 6PM
As the sun sets, join a lunar-inspired parade from Kings Cross Mosque & Cultural Centre on Loxham Street, led by Dohl drummers and featuring pupils from Argyle School as it winds its way along the street and into Holy Cross Church to be greeted by the Museum of the
Moon.
ONE KX:
11am-5pm Photography exhibition in Thenga Cafe
3pm Once in a Blue Moon – Payal Ramchandani (Lecture Deomnstration (£8) & Workshop (£2) pre-booking recommended) Book tickets here
4pm Layers of London
Throughout the day: Yoga and pilates taster sessions
OUTSIDE the LAUNDERETTE – from 4pm
Let's Mend This: Repair Service – A free repair service, bring clothes that have holes that need patching and take part in a conversation about how we can mend things, from society, to community.
UNIVERSAL BARBER – 4pm, 5pm & 6pm
Come and see films made by young filmmakers exploring the lives of Camden residents through movement and story-telling. Made in collaboration with Sidings residents,  The Place centre for contemporary dance and Camden Alive.
PLUS Pollocks Toy Theatre – 4.30pm & 5.30pm – The Flying Saucerers, suitable for ages 5+
HILLVIEW COMMUNITY CENTRE – from 4pm
Find out more about the distinctive legacy of the estate through a visual exhibition of photos, video and other memorabilia from Hillview's past plus live poetry readings from poet Hannah Lowe, and conversation about the project. Made in collaboration between Poet in the City, Hillview residents and Camden Alive. Made in collaboration between Poet in the City, Hillview residents and Camden Alive.
SOUTH CAMDEN YOUTH ACCESS – FROM 4pm
Arts, crafts and poetry writing workshops run by Corams Fields youth team on the theme of 'Peace at Night'.
ARTS CATALYST
Ignacio Acosta: Tales from the Crust Exhibition – from 1pm
An exhibition by Ignacio Acosta exploring the politics of extraction of minerals from across the planet.
Moon Hat Making – from 4pm
Make a Moon Hat and join in the parade at 6.30pm.
PLUS… Wander the stalls lining the street and enjoy delicious street food, facepainting, activites from the Calthorpe Project, Fitzrovia Youth Action, KCBNA, SOAS Origami, CADFA and more.
New Event Hotline:
Please note, the Event Hotline number 07555 457157‬ is out of service at this time. Please contact the Production Team for Bloomsbury Festival directly on 07407 139643. This is a new number to the one previously advertised. We apologise for any inconvenience caused. You can also contact the team via
production@bloomsburyfestival.org
Camden Alive is a programme of arts and cultural events that celebrates the people of Camden. Camden Alive is part of the Mayor's London Borough of Culture and is a Mayor's Cultural Impact Award winner. London Borough of Culture is a Mayor of London initiative with support from the City of London Corporation's Charity, City Trust Bridge and Airbnb.


Find out more about Camden Alive here
Cromer Street Welcomes the Moon – A Creative Family Street Party