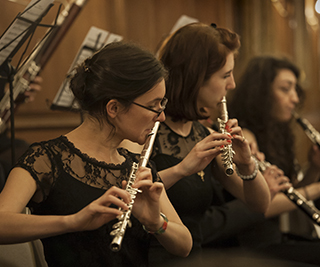 Conductors: Owen Ho & Zhu Sun
Guitar: Michael Poll
Mezzo-soprano: Hannah Crerar
Tenor: Mark Christian Bautista
Mendelssohn – The Hebrides, Op. 26
Rodrigo – Concierto de Aranjuez
Mahler – Das lied von der erde
Goodensemble, London's hottest young symphony orchestra, makes a welcome return to Bloomsbury Festival 2019.
The universe has long been a fascinating subject amongst composers. This concert presents three works, all of which in their own ways connect to the ideas of journey, space, and humanity. The concert begins with Mendelssohn's The Hebrides, an overture which was inspired by the composer's adventure to the Fingal's Cave in Scotland. Next, guitarist Michael Poll joins force with the orchestra to present the much loved Concierto de Aranjuez by Rodrigo, who later in his life was inspired by the experience of touching rocks that NASA astronauts had brought back in the 60s. The concert concludes with one of Mahler's greatest orchestral works, Song of the Earth, a cycle of songs that contemplates our human existence surrounding themes such as living, beauty, loneliness, parting, and salvation.
This performance takes place in the Great Hall, London House. 
Tickets: £12 (£10)

Music in Space – Goodensemble