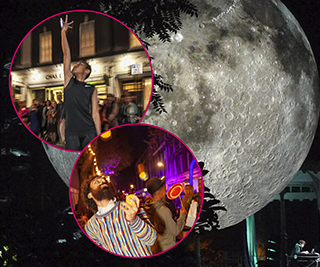 Back by popular demand, the Festival hosts a night-time street party with a twist to launch Bloomsbury Festival 2019.
Only a stone's throw from the West End, Store Street is a hidden gem with a very special local flavour. For one night only, Moonlight on Store Street will transform the street into a moonlit stage to celebrate all things lunar, dazzling those of all ages as they bask in the presence of artist Luke Jerram's Museum of the Moon!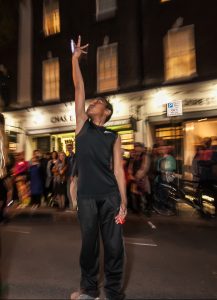 Take some small steps or giant leaps and join in the fun with a Bollywood workshop with Arunima Kumar or try out tango with Antonio Riva, make and wear a moon hat, listen to the Festival's moon inspired Store Street House Band and watch a new commissioned dance work by Subathra Subramanian working with Westminster Kingsway College students. Look out for artists of all types interacting with Museum of the Moon, or just lie back on the moon loungers and lift your eyes to revel in the presence of the Moon at very close quarters.
Store Street's intimate independent shops, cafes and businesses will open their doors to reveal an array of moon-related creative delights including performance, reflection and lunacy!
Moonlight on Store Street is a night that is sure to be out of this world!
Only a short stroll from Tottenham Court Road and Goodge Street.
FREE – Just Turn Up
Supported by The Bedford Estates, Schroders Real Estate, Store Street, Hurford Salvi Carr and Boodle Hatfield LLP.
Photo: Museum of the Moon at OORtreders Festival, Neerpelt, Belgium (c) Luke Jerram
Luke Jerram's Museum of the Moon was co-commissioned by a number of creative organisations brought together by Luke Jerram and Norfolk & Norwich Festival. These include: At Bristol, Kimmel Center, Lakes Alive, Provincial Domain Dommelhof, Brighton Festival, Greenwich+Docklands International Festival, Without Walls, Les Tombées de la Nuit, Rennes and Cork Midsummer Festival. The artwork has also been created in partnership with the UK Space Agency, University of Bristol and The Association for Science and Discovery Centres.

Moonlight on Store Street – A Night Time Street Party with a Twist!