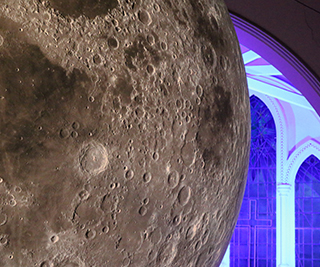 Arts and science collide in a fun, engaging day exploring all things moon-related. There'll be lots to see and do under Luke Jerram's impressive lunar installation Museum of the Moon. Activities for all ages such as interactive workshops, exhibitions, talks and performances including:
THROUGHOUT THE DAY
Moon Rocks and Meteorite Samples
See and hear about real life moon rocks and meteorites with Dr Louise Alexander (Royal Astronomical Society)
Origami Workshop
Create Origami moons, stars and rockets in a workshop by SOAS Origami Society
VR Supernova sessions
Interactive Virtual Reality supernova session of massive star explosions – by Astrophysics PhD student from UCL
Escape the Lab with Cancer Research UK
An immersive escape room experience, where we bring the research lab to you.  Get an insight into the small steps taken towards great progress in beating cancer.  Become a researcher and work with your team against a 20-minute clock to crack a code by solving a series of puzzles and clues hidden inside a 'lab' environment.
Find the Mars Rover
Find the Mars Opportunity Rover in a computer game using real life images of Mars surface via 3D visualisation software, with Mullard Space Science Lab PHD students
Story Den with Sir John Soames Museum
A special space-themed version of Story Den for storytelling, den-building and sensory play for little kids 2-5. The story lasts around half an hour, with another half an hour for free play in the den.
Junk Model Rockets
Create a junk model rocket and fly them to the moon in an art and story workshop by Holborn Community Association. Suitable for children with autism and social communication difficulties
Animation Workshop
Paper cut-out animation workshop with a space theme by Holborn Community Association
Autism Art Group Exhibition
Moon based drawings and mini sculptures created by autistic children.
TALKS
12pm – Frozen Oasis in Space: How mining water on the Moon will transform spaceflight by Stanley Starr (former NASA engineer)
1pm – Lunar expeditions by Professor Ian Crawford, Professor of Planetary Science and Astrobiology
2.15pm – On Apollo Mission, a personal take its context, its impact on space travel at the time and legacy by Prof Alan Smith (Mullard Space Lab, UCL)
3pm – The Moons of the Solar system with Francisco Diego, UCL – Senior Research Fellow at the Department of Physics and Astronomy
4.30pm – Small steps, giant leaps: Fighting disease through discovery – Scientists from the Francis Crick Institute, Genevieve Barr and Duncan Mckenzie, will share insights from the lab into the fight against HIV and cancer
PERFORMANCES
2pm & 4pm – Lunar Salute – through dance three women exploring how the moon cycles effect them
3.30pm – Musical/poetry performance about space exploration by Divya M. Persaud, PhD student at the Mullard Space Science Lab
FREE – just turn up
> Check out all of the events Under the Moon
Photo: Museum of the Moon (detail), Luke Jerram
Luke Jerram's Museum of the Moon was co-commissioned by a number of creative organisations brought together by Luke Jerram and Norfolk & Norwich Festival. These include: At Bristol, Kimmel Center, Lakes Alive, Provincial Domain Dommelhof, Brighton Festival, Greenwich+Docklands International Festival, Without Walls, Les Tombées de la Nuit, Rennes and Cork Midsummer Festival. The artwork has also been created in partnership with the UK Space Agency, University of Bristol and The Association for Science and Discovery Centres.