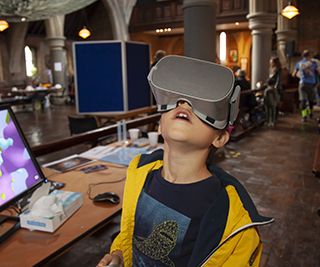 Have you ever wondered how the brain helps you see? Is what we see real? What does the brain actually look like? Explore the answers through stimulating activity, immersive workshops, artistic responses, thought provoking talks, and VR experiences.
Join Francis Crick, UCL, Sainsbury Wellcome Centre, Holborn Community Association and many others to explore how we see and perceive the world. It's not what you think it is!
MAKE
– Create your own brain structures and add to a giant sculpture (Autism friendly) with Holborn Community Association
– Respond to what you've seen throughout the day with eye opening activities
EXPERIENCE
– Using VR walk through a brain and discover it's inner workings with the Sainsbury Wellcome Centre
– Join UCL in an immersive sensory experience to discover how our new digital world has affected how we sense the world?
LEARN
– Join researcher, Annamaria Caursi, to encounter images of 'our' brains.
– Do we learn to see? The Royal College of Opthamologists tell you how!
– Discover the connection between hearing and sight with The Francis Crick Institute
– Do you have synesthesia? Join researcher Rachel Mason in an informal Synesthesia meet-up!
Events at Holy Cross Church and various locations in Cromer Street.
12pm-5pm
FREE – Just turn up

11am-12pm Autism friendly opening suitable for families who prefer a quiet environment.
Free – ticketed event
Seeing and Perceiving Hub