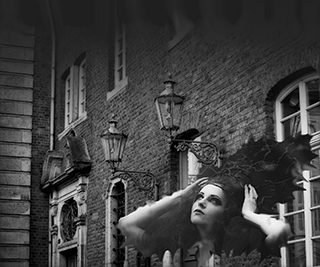 Regrettably due to unforeseen circumstances the Haunted Bloomsbury experience walk has had to be cancelled. Ticket holders will be contacted and offered a full refund.
We are pleased to offer the Haunted Bloomsbury as a free audio walk, which will be available to download here during the Festival.
Whether it was considered an intellectual pursuit, a genuine religious order, a feminist flag, or just a grand excuse for a gin-soaked party, Spiritualism was a crucible where many of the conflicting and newly forming ideas of the late Victorian era brewed and clashed. At one point it was the domain of the intellectual elite, who held literary salons discussing Swedenborg and Blake. At the other extreme it was reverse colonialism gone mad, with female liberation, drunkenness—and worst of all Americanness—running rampant through England.
The Victorians had long been fascinated by a wide range of phenomena that might loosely be termed the 'occult'; and earlier manifestations of interest in spirituality had made their mark during the first half of the 19th century. Tracing Spiritualism's lines of origin, we're driven through these occult pathways into the heart of Bloomsbury. Join your tour guide Dr Romany Reagan for an evening stalk of gothic intrigues and Victorian ghosts, ending with a well-deserved gin at a local hostelry to settle your nerves.
Starting point of walk – A secret location in Bloomsbury (you will be notified where to meet prior to the event).
Haunted Bloomsbury: An 'Experience' Walking Tour of Spiritualism, Ghost Stories & Gin – CANCELLED