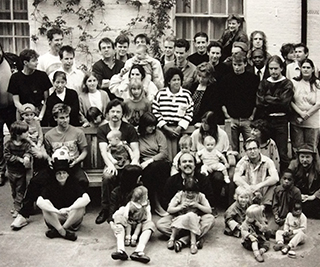 Hillview Poetic Histories is a collaborative project devised by Poet in the City and residents of the Hillview Estate, a Victorian housing development in King's Cross.
In 1980 a group of squatters and short-life tenants founded Hillview Residents' Association and began a 15-year campaign to save their homes on the Hillview Estate from demolition by the then council.
Poet Hannah Lowe was commissioned in 2019 to write a poem inspired by interviews with Hillview residents. She also facilitated a series of poetry workshops and poetry competition on the estate. New poems were written by residents about their arrival onto the Hillview Estate and life since.
This exhibition features the poem written by poet Hannah Lowe as well as poems written by residents Amy Mc Allister, Chris Harrison and Chirs Reeves, winners of the poetry competition.
Hillview Peoples' Archive has since been launched to collate materials, document and share the estate's unique story, and to galvanise residents, housing providers, policy makers, academics, artists, and the wider populace in the conversation around the right to a home.
We would love to hear from anyone who would like to add to the archive; photos, film, or any other form of memorabilia relating to life on the Hillview Estate are welcomed.
Email: hillviewpeoplesarchive@gmail.com to find out more.
FREE – Just Turn Up
Photograph: Hillview Community, 1988, by Catherine Packard
Hillview Poetic Histories