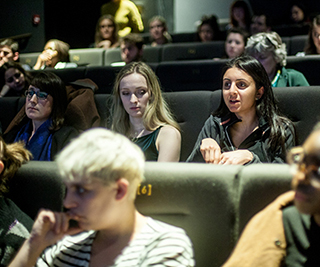 In collaboration with Bloomsbury Festival, Bertha DocHouse present 'I See It Differently', a series of illuminating short films from thought provoking perspectives. Reflecting both personal and universal narratives, from local and global talents these films dig into the theme of Vision through culturally rich filmmaking.
Free online event, but pre-booking essential

Details of the confirmed programme below. Keep checking back for more details and additions!
'Who Cares?': A film by Heart n Soul at The Hub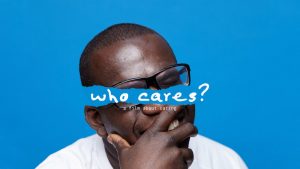 Relationships between support workers and learning disabled and autistic people are shown through a selection of moving portraits and extracts from conversations. Support is a vital part of independence for many learning disabled and autistic people, and cuts to this kind of care are detrimental to their wellbeing. 'Who Cares?' raises a question of what 'care' really means, and who benefits and how, from these relationships.
'Who Cares?' was created by Catherine Long and Felipe Pagani with participants and support workers from award-winning creative arts charity Heart n Soul's creative arts programme, Allsorts. The film was made as part of Heart n Soul's research project at Wellcome Collection, Heart n Soul at The Hub, and features original music composed by Charles Stuart.
Heart n Soul are current residents of The Hub at Wellcome Collection from 2018 to 2020 (extended to 2021). Their research project, Heart n Soul at The Hub, is led by people with and without learning disabilities and autistic people. They are exploring the value of difference and challenging what is 'normal'.
If you would like a read aloud version of the events copy, please use SoundCloud link below;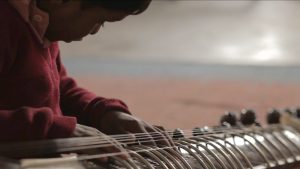 Baluji
Dir. Marie-Cécile Embleton

Baluji Shrivastav is an award-winning blind Indian sitarist, whose innate talent propelled him from an Indian village to Europe, where he founded Britain's first blind orchestra. He reflects on the adversity and opportunities that have shaped his journey. Losing his sight in a tragic accident as a baby, his mother's prophetic dream sealed his fate as a great musician. Restricted by prejudice and the strict confines of the Indian Classical tradition, 1970s Europe offered a new world of sound and experimentation. Through a chance encounter in Paris, he meets his wife Linda who opens his mind to a new perception of music and life.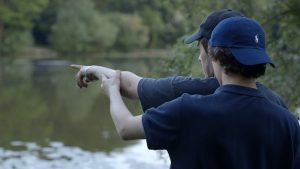 Across still Water
Dir. Ruth Grimberg
John is 32. Diagnosed with a devastating eye condition he is gradually losing his sight. With amazing strength of character and the help of family and friends he leads a very full life. Yet, his mother and others are frustrated by his refusal to make difficult decisions, including giving up his little Jack Russell so he can get a guide dog.
Determined to hold on to as much of his previous life as he can, John seeks solace in his love of night fishing, diligently guided by his young friend Ben.
This is a subtle and gently paced exploration of a journey requiring real patience and fortitude, evoked in scenes of a night fishing trip and encounters with those who urge John to take the next vital steps in his life.

Oserake and the River That Walks
Dir. Robert Robertson
Oserake is the First Nation name for the winter quarters which were set up by the river, the origin of the city of Montreal. The film shows what happens to Montreal in winter, when the wilderness takes over.  Overwhelming forces try to return the modern city to the time before today's streets and blocks existed, and phantoms invade the empty white streets.  Massive snowdrifts, huge icicles and icefalls appear. Everything is transformed beneath layers of snow,  and we glimpse what was seen by those who  founded the original settlement, by this great river they called 'the river that walks', swept with ice.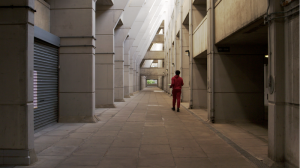 Everyman
Dir. Everyman Collective (Laurence Avis, Richie Benson, Naresh Kaushal).
During the summer of 2020, against the backdrop of Covid-19 Everyman Collective set out to portray the lives of those who identify as men and who live, work or play in Bloomsbury. Starting from the premise that masculinity is under scrutiny and the behaviours actions and identities associated with it are being called into question, the film explores the new climate that is emerging from. One which is under numerous societal pressures, entering a period of introspection – and from which it is being expected to evolve. Beyond the alpha, beyond the tough male façade, exists something gentler; a more explorative and more vulnerable discourse is there to be had. Here we see this masculinity unfold.