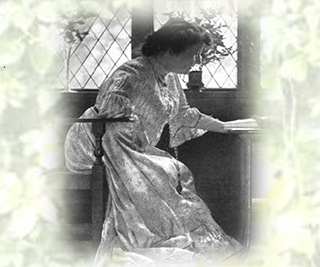 Frances Hodgson Burnett is most famous as the author of The Secret Garden but her life and indeed her considerable literary output remain largely unknown.
Born in Manchester in 1849, she was a phenomenally successful author with 52 books published in her lifetime. She also adapted and produced many stage versions of her stories and of course there have been many subsequent film and television adaptations of her work. In her lifetime she was seen as a scandalous figure with two failed marriages and her flamboyant character and lifestyle was often the material for gossip columnists around the world. In the secret garden of Frances Hodgson Burnett, she describes her life and her continued pursuit of a vision of happiness for all and reads from some of her most famous books including Little Lord Fauntleroy and The Secret Garden.
In the Secret Garden of Frances Hodgson Burnett is underscored with live music on celtic harp and accordian.
Find out more about Helix Productions and the show in this Q&A
Tickets: £10 (£8 conc)

This will be an online event (live from Goodenough College). Ticket holders will be contacted a few days prior to In the Secret Gardne of Frances Hodgson Burnett with details of how to watch the event digitally.
In the Secret Garden of Frances Hodgson Burnett – Helix Productions