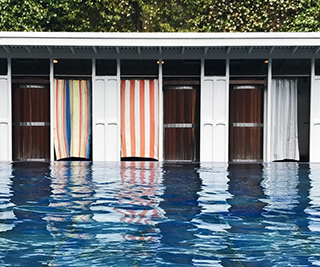 The lido provides a place of peace and a different perspective on how we see the world. Architecture and travel writer Christopher Beanland, author of Lido, takes us on a tour around the very best outdoor swimming pools, from London and beyond in this illustrated talk. Along the way he explores the history, design and people behind the pools and what makes outdoor swimming so special.
Tickets: £5

This will be an online event via zoom. Ticket holders will be contacted a few days prior to Lido: A Dip into Open Air Swimming Pools with details of how to watch the event digitally.
Photograph by Charlotte Bland.
Lido: A Dip Into Outdoor Swimming Pools