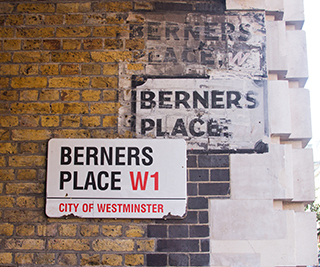 Hiding in plain sight, London's street nameplates represent a unique visual history.
Join Alistair Hall, art director and author of London Street Signs, for an illustrated talk exploring some of the capital's most beautiful and curious nameplates. From Bloomsbury and beyond, he will share fascinating stories behind these unassuming treasures. Taking a stroll through the streets of London will never be the same again!
Tickets: £5

Due to current government restrictions on gatherings and social distancing requirements tickets for London Street Signs are currently only available digitally (via zoom). Should government advice change and we are able to invite a live audience to this event, those who have already booked will be contacted and invited to join the in person audience. If we have to limit the capacity of the live event, due to social distancing restrictions, those that booked first will be offered a seat in the first place i.e. if the capacity is 20 then those that booked the first 20 tickets will be offered a place in the live audience. If you are offered a place in the live audience but would prefer to watch digitally rather than in person then that is fine and the 'live ticket' will be offered to another booker.
Photograph by Alistair Hall.