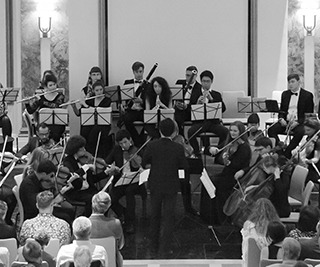 Unfortunately we are experiencing some technical difficulties with Music X Art concert performed by Goodensemble. This performance will now begin at 8pm. We apologise for any inconvenience caused.
Programme
Purcell Overture to King Arthur
Purcell Prelude to The Fairy Queen
Lully Overture to Armide
Handel "Da Tempeste il Legno Infranto" from Giulio Cesare 
Vivaldi "Nell'Intimo del Petto" from Farnace
Purcell "The Plaint: O Let Me Weep" from The Fairy Queen
Purcell "Come All Ye Songsters" from The Fairy Queen
Gluck "O del mio Dolce Ardor" from Paride ed Elena 
Mozart "Deh Vieni non Tardar" from Le Nozze di Figaro 
Elgar Elegy for Strings, Op. 58
Mussorgsky Pictures at an Exhibition (arr. by Robert Patterson)
Performers
Conductors Owen Ho, Will Sharma, Lucy Callen
Singers Ava Dodd, Leila Alexander, Victoria Hodgkinson
Art curator Ian McNaught Davis
Artists Debayan Chatterjee, Elizabeth Gunawan, Ian McNaught Davis, Khushna Sulaman-Butt, Shanzay Subzwari, Tamar Geist
Visual art has always inspired music. In this concert, Goodensemble present a series of musical works that are in one way or another connected to the visual art world. We begin with three operatic overtures to King Arthur, Fairy Queen, and Armide respectively, all of which tell the stories of figures who have been painted and re-imagined through the centuries by artists.
And it is not just the overtures. The concert also showcases a wonderful selection of opera arias from the Age of the Enlightenment and Baroque periods, all with intricate links to subjects that were once popular amongst the artistic circles.
Mussorgsky's famous Pictures at an Exhibition needs no introduction, but do you know some of the pictures that once inspired the composer are now lost? Alongside the original pictures to be projected during the concert, we have invited a roster of contemporary artists to respond to the music and re-imagine these now-lost pictures, with a modern twist. Come and find out!
Tickets: £12 (£10 concs)

This will be an online event via YouTube. Ticket holders will be contacted a couple of hours prior to the Goodensemble concert with details of how to watch the event digitally.
Music X Art: Goodensemble