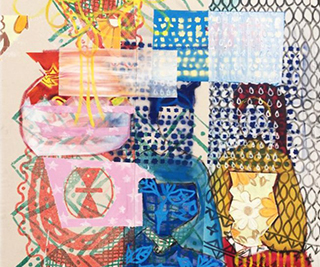 Winner of the 2020 Bloomsbury Festival Art Competition, Claire-Anne Abi Ola, has just completed the first year of her MA in Fine Arts (Painting) at the Slade School of Art. Abi has been commissioned to create this exhibition of new and existing works, responding to the 2020 Festival theme, Vision. Abi's artworks play with pattern, shapes and optical illusions. The patterns are inspired by British and West-African fabrics and textiles that her family wears.
Abi emphasises how her work brings together two worlds:
"The artworks represent the influence of the two cultures in my life and how these form my identity. My work focuses on representations of my family even though the figures remain ambiguous with the faces of the figures missing – but the patterns of their clothing reveal where they are from and what they are like".
Abi uses techniques such as screen printing and oil painting and is influenced by African Dutch wax prints and traditional European painting techniques.
A Bloomsbury Festival project.
This exhibition was shown at The Building Centre, Store Street from 16-23 October, and is also available to view online – as both a 2D Online Exhibition and a 3D Virtual Gallery – below (opens external links):
Abi's winning exhibition was launched online by Sir Kier Starmer and The Building Centre on the opening day of Bloomsbury Festival 2020:
NEW WAVE: Love at a Distance – Claire-Anne Abi Ola – Art Prize 2020