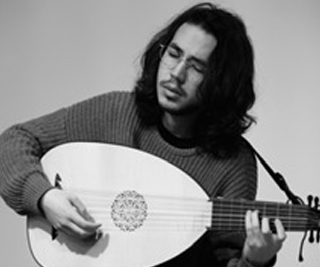 Dowland – Lachrimae; Lady Clifton's Spirit; A dream; A fancy
Trad 17th century – Scottish Airs for Lute
Robert De Visee – Suite in A minor for Theorbo
Steven Goss – The Miller's Tale
In the 17th Century, the lute was one of the most popular instruments across Europe. Its repertoire ranging from the songs of the Scots to stylised French dance suites and the melancholy of the English Jacobean composers. This recital by Sergio Bucheli is a celebration of music traded and shared across borders in a musical conversation across Europe.
FREE – watch online
Bloomsbury Festival's 2020 New Wave Lunchtime concerts have been recorded live at the Music Room, Great Ormond Street. Each performance will be premiered on Bloomsbury Festival's YouTube channel and following the performance will be available to view for the duration of the Festival. A member of the Festival team will be available via Live Chat throughout the concert premiere to answer any questions you may have whilst watching. At least seven days before each premiere we will add a weblink here to a watch page created for each performance. If you would like to be notified when the watch page becomes available, so you can set a reminder to watch the concert, please keep an eye on our social media channels or email admin@bloomsburyfestival.org.uk so a notification can be sent.
Thanks to Alec Forshaw for his support and use of the Music Room.
NEW WAVE Lunchtime Concert: La Mascarade – Sergio Bucheli