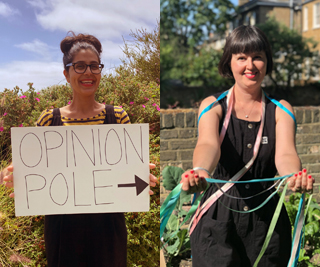 Regrettably due to unforeseen circumstances the Opinion Pole installation has had to be postponed. We hope to bring you the installation in 2021 and will update our website when we have further news.
Artists YARA + DAVINA's Opinion Pole invites the public to consider their visions of the future, as the artists bring people together with a specially commissioned community maypole.
Maypoles are rooted in folk tradition in Britain. It is a symbol of community, layered with metaphor, traditionally marking the arrivals of something new and a "sign that the happy season of warmth and comfort has returned." Collectivity is essential in activating the maypole; moving together in unity to weave the ribbons around the maypole.
The large scale interactive sculpture will share different visions for the future printed on each ribbon, collected from local community groups YARA + DAVINA work with.
The Opinion Pole will be activated by music composed by Kevin Davidson in collaboration with the local community, playfully combining traditional folk music with contemporary music from popular culture.
Through polling the communities' opinions, the artist duo are giving the public a voice in the festival. The Maypole becomes a symbol of intent and aspiration, inviting participation from anyone who wishes to take part, including people who may have never taken part in the ritual of the maypole before.
The Opinion Pole will be open as a static installation from 12 noon – 5pm daily through the festival (except Monday). You may book a schools visit to the Opinion Pole to join in maypole dancing and activities on Tuesday 20 October daytime and the public can join in activities from 11am to 3pm on Saturday 24 October. (Schools please email admin@bloomsburyfestival.org.uk)
FREE – Just Turn Up