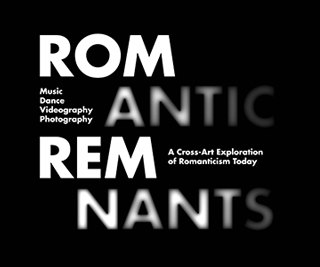 Owen Ho composer
Matthew Rawcliffe choreographer
Haruka Hochin videographer
Ian McNaught Davis photographer
Music performed by members of Ensemble Matters
Where exactly are we now? Perhaps we are moving towards a new era of romanticism. This concert features a selection of romantic musical works from the contemporary repertoire. The programme includes Joan Tower's refreshing concert opener, Petroushskates (1980), Aaron Copland's vast and rhythmically-driven Appalachian Spring Suite (1944), and the world premiere of Owen Ho's latest cross-art collaboration, Romantic Remnants – Music for Dance, Videography, and Photography.
In Owen Ho's work, the music takes off from an old song by Schumann and develops into an unending journey towards the unattainable. The choreography, in response to the musical structure, unpicks and explores ideas of longing with abstract movements and allusive gestures. As the dancers move, the videography will present a series of motion graphics and deconstructed text from Schumann's lyrics, originally written by Heinrich Heine. Last but not least, photo collages will be displayed around the concert to add yet another dimension to romanticism's nature of existence today: one of fragments, of remnants.
Come witness this highly romantic endeavour between music, dance, videography and photography!
Tickets: £12 (£10 concs)

Due to current government restrictions on gatherings and social distancing requirements tickets for Romantic Remnants are currently only available digitally (via zoom). Should government advice change and we are able to invite a live audience to this event, those who have already booked will be contacted and invited to join the in person audience. If we have to limit the capacity of the live event, due to social distancing restrictions, those that booked first will be offered a seat in the first place i.e. if the capacity is 20 then those that booked the first 20 tickets will be offered a place in the live audience. If you are offered a place in the live audience but would prefer to watch digitally rather than in person then that is fine and the 'live ticket' will be offered to another booker.
Romantic Remnants: Music, Dance, Videography & Photography