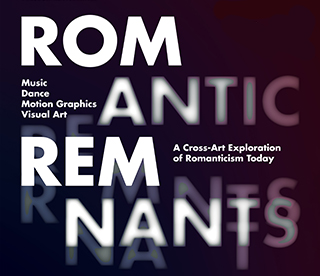 Programme:
Joan Tower Petroushskates (1980)
Robert Schumann Scenes from Childhood – Arrangement for Chamber Ensemble (1838, arr. Owen Ho, 2020)
Owen Ho Romantic Remnants (2020) – Music for Dance, Motion Graphics, and Visual Art (World Premiere)
Performers:
Owen Ho composer
Company Concentric choreography
Haruka Hochin videographer
Ian McNaught Davis photographer
Music performed by members of Ensemble Matters
Flute: Hannah Gillingham
Clarinet: Fran Cervera
Piano: Mikaela Livadiotis
Violin: Eliott Bougant
Cello: Tamaki Sugimoto
Where exactly are we now? Perhaps we are moving towards a new era of romanticism. This concert features a selection of romantic works from past to present, including Joan Tower's refreshing concert opener, Petroushskates (1980), a new arrangement of Schumann's introspective Scenes from Childhood (1838), and the world premiere of Owen Ho's latest cross-art collaboration, Romantic Remnants (2020) – Music for Dance, Motion Graphics, and Visual Art.
Owen Ho's work takes off from an old art song by Schumann and develops into an unending journey towards the unattainable. The choreography, in response to the musical structure, unpicks and explores ideas of longing with abstract movements and allusive gestures. As the dancers move, the motion graphics present a series of deconstructed text from the original lyrics, originally written by Heinrich Heine. Visual artworks will be displayed around the concert to add yet another dimension to romanticism's nature of existence today: one of fragments, of remnants.
Come witness this highly romantic, inter-disciplinary artistic collaboration!
Tickets: £12 (£10 concs)

This will be an online event via YouTube. Ticket holders will be contacted a few days prior to the Romantic Remnants concert with details of how to watch the event digitally.
Supported by:
Hong Kong Arts Development Council
and
Romanticism on the Net
British Association of Romantic Studies
Gesellschaft für Englische Romantik
North American Society for the Study of Romanticism
Romantic Remnants: Music for Dance, Motion Graphics, and Visual Art