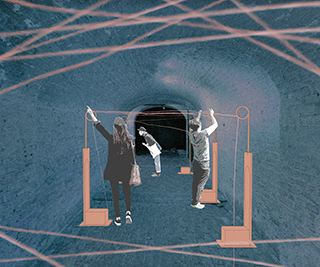 Inspired by Jules Verne's Journey to the Centre of the Earth, Rooting Failure is an interactive installation by Paolo Di Gennaro and Sara Coppa, challenging common understandings of failure. By taking a self-exploratory walk through the subterranean spaces of The Crypt Gallery, participants undergo a journey of recollection, discovery and revelation that examines the human tendency to hide disappointments, in the process demonstrating how sharing vulnerability fosters social empathy.
The burden of being continually successful confronts our ordinary life facing expectations to comply with the contemporary ruling market-led demand for perfection.
The aim is to open up a conversation about failure in a time in which it is either unspeakable or subjected to the capitalistic imperative to dress the outcomes of all actions in the garb of success. In this way, failure, as an essential component of character development, may be de-stigmatised in a results-driven, fear-stricken society.
Open 10am – 6pm Daily
FREE – Just Turn Up
On Thursday 22 October there will be a talk associated with this exhibition. Click here for more info