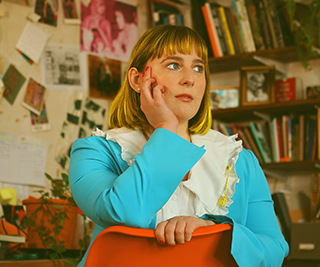 Join Abi Palmer for a live performance of Sanatorium, her debut book that interlaces memoir, poetry and meditations on the body. Sanatorium will invoke a shared mystical experience amongst a physically separated audience, connected by screen. The audience will experience a hallucinatory, immersive performance, involving fragmented language, projection, and sound experimentation. The performance will be followed by a live Q&A about mysticism, hauntings, and the queer body.
Attendees will receive an exclusive discount code for 20% off a signed copy of Sanatorium, via the publisher Penned in the Margins. The event will be audio captioned.
Described by Sinéad Gleeson as 'exquisite', Sanatorium ranges in setting between a thermal water-based rehabilitation facility in Budapest and an inflatable bathtub in Palmer's south London flat where she attempts to continue her recovery. In the space between gravity and weightlessness, waking life and out-of-body experience, readers are invited to question if water is a means for rehabilitation, or if their narrator is simply dissolving. Palmer's writing challenges preconceptions around chronic pain, the queer body, and disability.
Tickets: £5

This will be an online event via zoom (live from Goodenough College). Ticket holders will be contacted a few days prior to Sanatorium with Abi Palmer with details of how to watch the event digitally.