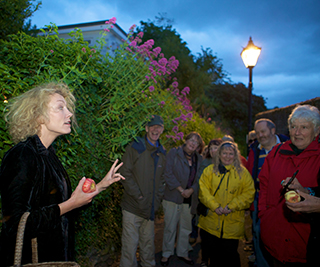 Scary Little Girls bring the streets of Bloomsbury to life in treasure hunt of performance, art and song celebrating the life and work of JM Barrie.
With these walks, audiences use a specially written guide to find their way around a uniquely chosen route, reading not only the directions but also nuggets of information and heritage about the place as they explore. We'll use extracts of plays, performances pieces and music – both famous pieces by the nation's beloved creator of Peter Pan and little known local gems that speak to his life and relationships.
Explore this fascinating area of cultural London in small groups to enjoy these intimate, out door performances and discover secrets you never knew your city was keeping! Performed with students from RADA.
Performances last approx 1hr 10 mins, and start at 11am, 11.20am, 11.40am, 12.00pm, 12.20pm, 12.40pm, 1pm and 1.20pm on Thursday 22 & Friday 23 October. Ticket holders will be notified of the location of the start of the performance walk in advance.
Tickets: £10 (£8)

Second Star to the Right – A Storytelling Walk about JM Barrie