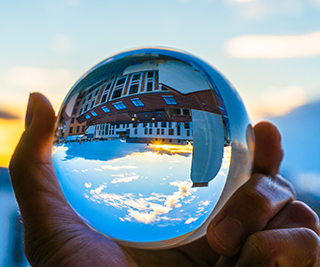 Regrettably our Sights on Store event has had to be considerably scaled back from the previously advertised information, due to government guidelines.
Bloomsbury Festival's specially commissioned installation, Opinion Pole, by artists YARA + DAVINA, will be displayed on the Crescent at Store Street form 12noon until 8pm on Friday 16 October. Opinion Pole invites the public to consider their visions of the future, through this specially commissioned community maypole.
You'll also be able to view digital optical illusions, by Andrew Stockman of UCL Institute of Ophthalmology, on the screens in the Building Centre's foyer.
Throughout the Festival, Store Street also hosts two exhibitions – winner of the Bloomsbury Festival 2020 Art Prize, Claire-Anne Abi Ola's exhibition  at the Building Centre explores patterns, shapes and optical illusions. The patterns are inspired by British and West-African fabrics and textiles her family wears. At Russell & Chapple, artist Mary Kuper explores the colour of words in her exhibition Blue, Green, Black and a Dappled Grey Horse.
FREE, just turn up
Our Store Street event is designed for you to enjoy as a gentle promenade – perhaps part of your daily walk, in ones or twos, or in small household groups as allowed by any social distancing requirements at the time. This safety first event will be stewarded for your reassurance. We invite you to explore Store Street transformed between 12noon and 8pm.
Supported by The Bedford Estates.
We hope to bring you our full Sights on Store Street event in spring/summer 2021 – keep an eye on our website for more information, early next year.