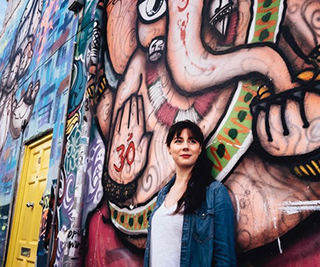 A recent recipient of the Francis Chagrin Composer Award, Helen Anahita Wilson premieres her latest solo project at the Bloomsbury Festival. Sounding the Cosmogram explores ancient Tantric diagrams as musically navigable graphic scores. Using live and looped South Indian vocal percussion known as konnakol, Wilson "colours in" projected geometric cosmograms with sound, generating complex layers of rhythm. Konnakol is a highly expressive, often thrilling, spoken musical language using a series of syllables ordered mathematically and with infinite potential for transformation and development.
This event includes a talk by Wilson on Carnatic rhythm and Tantric cosmograms.
"Breathtaking" – The Wire
"Stunning" – BBC Radio 3
"Hypnotic" – Qwest TV
Tickets: £8 (£6 concs)

This event will take place via Zoom. All ticket holders will be contacted with details of how to access the zoom link, a few days prior to the event.