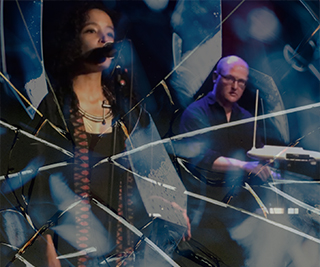 An experimental retelling of Hans Christian Andersen's fairy tale The Snow Queen, in spoken word and soundscapes, for adult audiences.
When the broken fragments of a powerful new mirror rain down on the earth people everywhere start seeing things differently, overnight. One best friend leaves the other behind, and each embarks alone on a journey into a world of distorted light and refracted vision that leads them to places they could never have seen, in ways they could never have imagined, at unimaginable cost.
Blending fairytale, verse fragments, and surreal imagery with uncanny theremin-led soundscapes, The New Mirror is a crazy ride through a familiar landscape, turned inside out.
SINISTER MASTERPLAN is Sam Enthoven – a musician, sound artist and event creator whose work explores the places where stories meet sound. He performs and programmes a range of events in atmospheric spaces across the UK.
LAURA SAMPSON is an emerging storyteller and promoter who studied literature at UCL, performance in the UK & Japan, and has since performed in theatres, clubs, courtyards, festivals, zen monasteries, libraries and classrooms.
Age guidance: 14+
Tickets: £8 (£6 concs)

The New Mirror is planned as a live event. We have ticketed the event with social distancing in mind.  If we need to cancel this event  because of government restrictions or social distancing recommendations due to Covid 19 we will inform ticket holders as soon as possible and a full refund will be issued.  Please ensure you give correct contact details when booking.