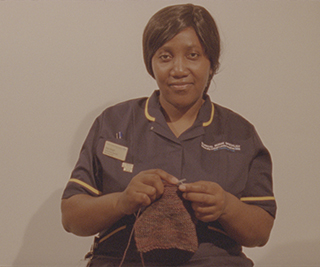 Explore the extraordinary perceptual worlds and sonic architecture of the Grays Inn Road hospitals. Join the artistic directors Laura Mitchison and Olivia Bellas for a walk and a documentary film-screening (Official Selection at rolling ideas film festival and semi-finalist in SHORT to the Point ISFF Award) and a Q&A.
The key settings are the Royal National Throat Nose & Ear Hospital and the Eastman Dental Hospital – recently closed and re-opened on a new site. Vignettes of the staff and patients are 'overheard' spilling into psychedelic corridors, waiting rooms and walnut gardens. Witness the moment a cochlear implant is switched on for the first time, the music journalist awakening to a phantom orchestra, the numinous experience of a perfectly pitched anaesthetic, the trills and purrs of voice therapy, until the entire human sensorium is assembled before you.
Original music gives architectural substance and tension to this collective memoir. An oboe and a clarinet call back and forth to one another, reverberating off marble floors. Melodies are shaped by the sounds of machines and corridors. An underwater recording of the Eastman Dental Hospital's fountain triggers notes on a piano.
All ticket holders will receive a limited-edition publication about the sculptural public artworks that the artists created on Huntley Street to commemorate the hospitals.
Tickets – £5

This event will take place online. All ticket holders will be contacted with details of how to access Texture of Air digitally, a few days prior to the event.