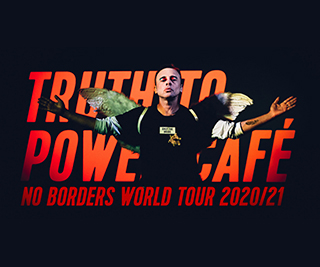 Jeremy Goldstein's internationally acclaimed Truth to Power Café is a profound theatrical reflection on loss, hope and resistance told through memoir, image, poetry, music, and testimony from ten UK participants with stories to tell in response to the question 'who has power over you and what do you want to say to them?'
Speaking truth to power is a non-violent means of conflict resolution, the origins of which lie in the anti-war movement.  In our era of post-truth, and fake-news, speaking truth to power is widely accepted to mean saying something to those in a position of authority who don't want to hear it.  Is it to your parents, a sibling, politician, lover, landlord, neighbour, religious leader, boss, banker, or simply your best friend? It's time to tell them the truth before it's too late.
Truth to Power Cafe is inspired by the political and philosophical beliefs of Nobel prize winning playwright Harold Pinter and his Hackney Gang. The Hackney Gang included Jeremy Goldstein's late father Mick Goldstein, and poet polymath and sole surviving member of The Hackney Gang Henry Woolf. For sixty years The Hackney Gang were on the side of the occupied and the disempowered and their allies.  It is these people we invite to take part in the project.
Participants are cast in advance. There is no audience participation.
Created, written and performed by Jeremy Goldstein with Henry Woolf and community participants
Digital theatre adaptation and directed by Jen Heyes
Camera Rachel Davies, Conor MacMahaon and Daniel Saul
Banners Ed Hall
Soundtrack Lewis Gibson
Additional Music Sven Ratzke and Stephen Hull
Lighting Nigel Edwards
Sound Recordist John Avery
Photography Sarah Hickson, Darren Black, Kate Holmes
"The revolutionary potential of theatre at its simplest and most direct." Lyn Gardner, Guardian
"A priceless repository of living social history, wit, wisdom and defiance." Attitude
"Hits the core of humanity and all of what is going on in the world." Metro
"Jeremy Goldstein's genre-busting roadshow presents a line-up of extraordinary individuals with the power to inspire." Jewish Renaissance
Age Guidance: 14+
Tickets: £12 (£10 conc)

This will be an online event. Ticket holders will be contacted a few days prior to Truth to Power Cafe with details of how to watch the event digitally.
Truth to Power Café is a London Artists Projects production developed with the Harold Pinter Archive at the British Library London; Theatre in the Mill Bradford; Soho Theatre London; Gold Coast 2018 Commonwealth Games Australia; and Leeuwarden European Capital of Culture in The Netherlands.
The UK premiere streaming is presented in association with London Festival of Architecture
Funded by Arts Council England