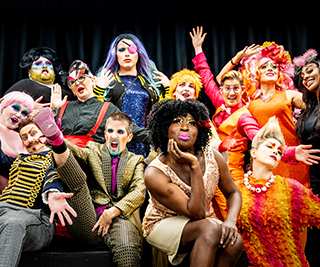 A drag cabaret with a difference! Come experience blind and visually impaired people and their friends from across the disability and LGBTQQIA+ spectrum dive nose first into gender bending fabulousness. We'll give you Kings, Queens, and drag things that defy definition – all in one raucous and accessible performance. This show is one small step for quips (queer crips) and one giant leap for queer kind.
This performance will be relaxed, with integrated audio description and BSL interpretation. Ages 14+
Unsightly Drag premiered at the Bloomsbury Festival in 2019 and is a production by Quiplash, a new quip-led creative company supporting and taking up space for quip artists and audiences. Quiplash is supported by Extant, the UK's leading blind and visually impaired theatre company.
Age guidance: 14+
Tickets: £8

Due to current government restrictions on gatherings and social distancing requirements tickets for Unsightly Drag and Friends! are currently only available digitally (via zoom). Should government advice change and we are able to invite a live audience to this event, those who have already booked will be contacted and invited to join the in-person audience. If we have to limit the capacity of the live event, due to social distancing restrictions, those that booked first will be offered a seat in the first place i.e. if the capacity is 20 then those that booked the first 20 tickets will be offered a place in the live audience. If you are offered a place in the live audience but would prefer to watch digitally rather than in person then that is fine and the 'live ticket' will be offered to another booker.
Unsightly Drag and Friends!