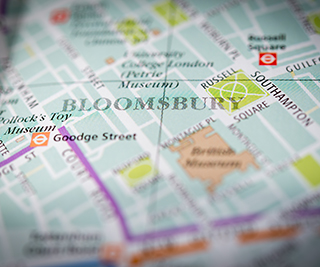 Unfortunately the Utopian Bloomsbury guided walk has been cancelled due to unforeseen circumstances.
Bloomsbury has at times in its history been much associated with visionary, utopian thinking and writing. This walk with Dr Matthew Ingleby will explore that history.
From socialists and anarchists to feminists and queer artists, the neighbourhood has inspired a distinctly futural imagination, which has allowed readers to see how things might be, not only what they empirically, provably are.
Walk starts by Russell Square fountain.
FREE – but pre-booking is essential.

Bloomsbury Festival 2020 walks will take place with the safety and enjoyment of participants and our guides at its heart. Tickets are limited to comply with social distancing recommendations, and should these change further tickets will be made available. Each participant will be issued with a receiver and disposable earphones, so that they are able to hear our tour guide microphone system. If you are able to bring along your own earphones/headphones (with mini-jack) to use instead of the disposable ones provided, please do.
Utopian Bloomsbury – Cancelled