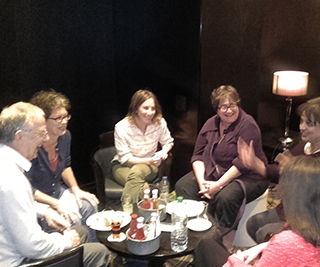 Andrew Morris, an experienced science teacher, has developed an approach for adults who are curious about the natural world, but lack a background in science. Meeting in various bars in Bloomsbury his groups discuss questions they pose, drawing on their own life experiences to shape the course of discussion. He introduces relevant concepts from science as discussion proceeds.
At this event, Andrew will first set out the potential scope for discussion on the Festival's theme of "vision", then invite participants to explore with him our understanding of how we perceive visually. We might consider the nature of light: where it comes from, how it behaves; the eye and how it responds to light; and the brain: how optical signals are processed.
The path the discussion takes will depend on the interests of the participants. The level will be introductory, for those with little background in science. Those looking for an expert lecture will be disappointed.
FREE – Online Event, but pre-booking is essential 

This event will take place via Zoom. All ticket holders will be contacted with details of how to access the zoom link, a few days prior to the event.
Vision – Open Discussion About the Underlying Scientific Concepts