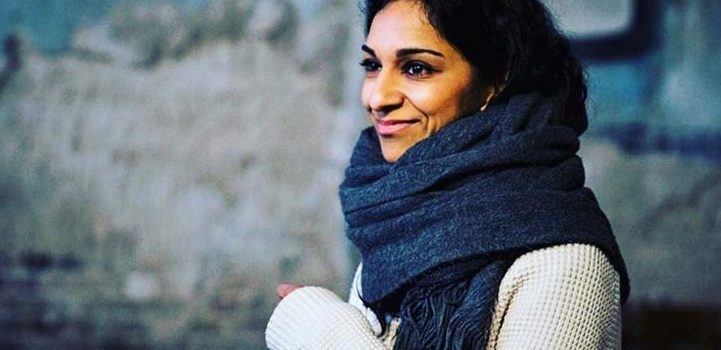 Tell us a bit about your role at Bloomsbury Festival
If it moves, I programme it! I look after Dance, Theatre and Performance. There are so many talents in the area – established and emerging – and I work with them to platform and champion their works. I also look after the Arts and Academia Hub, looking at the space between the arts and sciences. It's such a rich area bursting with ideas – I'm very lucky to hear about them all and connect all the dots.
What is your favourite part (or thing) about Bloomsbury?
For me, I love that in such a small set of streets lives a huge range of ideas, identities and imagination. There are a few spots I love: the Grant Museum of Zoology – somebody once adopted a taxidermy turtle for me there (!), the Foundling Museum – the stories there are wonderful and the golden bugs outside the London School of Hygiene and Tropical Medicine (remember to look up!)
Who would you invite to your dream dinner party?
Good question. This answer changes for me quite often, but for now it would be:
Brene Brown – it's always good to have a lively Texan who researches emotions at the dinner table!
Monisha Rajesh – she wrote a beautiful book about train travel and I want to talk to her about visiting Tibet as an Indian person.
Solange – I've been listening to a LOT of 'Seat at the Table'
Phillip Glass – he drove taxi's while he was making his amazing music, and was poor for such a long time, it's a lovely story of ambition. Also, if he could teach me that hard bit in Mad Rush, that would be great.
David Sedaris – to tell us stories
What is your most treasured possession?
I have a couple: an electric Yamaha piano (which I CAN'T play) and my hand built bike (which I CAN ride!). Both were gifts that friends clubbed together to get me.
If you had one, what would your superpower be?
I'd quite like to be part of this crew: The Empathy Girls
Which book are you reading at the moment?
I'm reading Period Power by Masie Hill. It's a brilliant understanding about what's happening biologically and psychologically for people who experience menstruation. It talks about Periods as 'seasons' like summer and winter – knowing when you're energetic and proactive, or when you're introverted and insightful. Very useful if you know you have a lot on! It's also gender neutral which is refreshing!
I've just finished reading Around the World in 80 Trains by Monisha Rajesh. It's a very beautifully written book, about the joys of long distance train travel. She speaks about the landscapes so visually, you can almost feel the sun streaming through her window, or see the lake appearing from behind the mountains. She travels all over America, Europe and Asia, but most exciting for me Tibet, North Korea and Kazakhstan – places I would love to go. It's been a lovely escape during lockdown.
Finally, what are you looking forward to most of all in the 2020 Festival?
There is so much! I love the theme and there are so many brilliant large and small scale interpretations. The programming around Synesthesia will be wonderful. There is so much to understand and so many ways it presents itself – I don't have it so I would love to learn more! The Arts and Academia Hub is bringing together so many wonderful scientists, community members and artists, it'll be a feast for the mind and eyes! And of course, working with the team – they are completely brilliant.