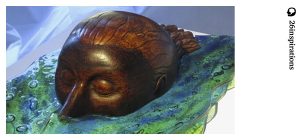 Light is coming
Where can I find light when drowned in darkness?
Where can I feel peace when cauled by monsters?
I'll throw smudged hope where blue waves weave over us,
Where the night's milky, mauled moonlight ponders.
Sink deep so your salted-thump-heart believes
This one, true wild life cracks through hues of blue,
Stare at the smashed faced sun till you can breathe,
Shards of grief wash over me, and you.
Let the shucked, shushed sea spill in, shell my heart,
Still my heart. Be still my salted, broken…
Light splinters bare rocks. Hold on tight sweetheart.
Wait and we'll watch the fish kneel down. Dawn comes. 
All winter beating time, waiting for hope
Yet it's spooled inside us both like a rope. 
–
For Alix and I, inspiration comes from the raw beauty of the
Jurassic Coast. This is Alix's home and a place that feels like
home to me, because my parents and siblings live there.
We wanted to bring a salty dose of sea air and meditation to
London's Bloomsbury, with Light is Coming. Wild swimming
restores me, inspires me and makes me whole again. Alix and I
have worked together before at The Story Museum and elsewhere,
and we tend to have a big conversation over strong coffee before
going our own ways and exchanging fragments of ideas…
As soon as I saw Alix's early sketches of the sculpture she wanted
to create, I knew I should write something formal, like a sonnet,
to match the clear lines of her work. Alix created her sculpture
in collaboration with Galiani Glass.