BF Pioneers
Local, Global, Inspiring – we're a small independent charity that brings big ideas to the fore. We really need your support!
Each year we need to raise £200,000 to realise:
– A world-class Festival made by a local community
– Groundbreaking new work from the next generation of artists and scientists
– Pioneering community outreach projects for inner city families – children and elderly people
– Volunteering and work placements
We rely on the generosity of individual supporters to help us reach this target and as little as £5 can make a difference:
Donate online:
> Visit our DONATE page
Donate by text:
Make a quick and direct contribution. It is easy to donate. Text "BLF002 £5*" to 70970 (*TEXT DONATIONS CAN BE £3, £5 OR £10).
Donate in other ways:
To speak to us about other ways you can help, please get in touch
Bloomsbury Festival in a Box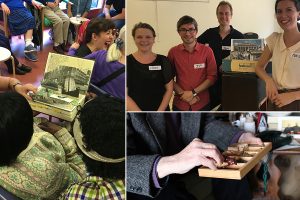 Festival in a Box is a pioneering project that reconnects people living with dementia, and others who are socially isolated, with their own creativity.  Developed with Age UK Camden and the School of Advanced Study, Festival in a Box takes artists into the homes of isolated people who would otherwise be unable to attend cultural events. The results are unique workshops and performances made between the artists and the participants in the participant's living room!
Artists are carefully selected according to each participant's interests, and come to the sessions with a toolkit of stimulating ideas and props designed to engage participants. Together the artists and participants make artworks, sing, tell and hear stories, watch a live performance – or create one together.
"This was an opportunity to take part in an activity that I thought I would never do again!" Participant, age 95, receiving FIAB Artist visits from professional contemporary dancer in which they co-choreographed and performed a seated dance sequence.
How you can help – Sponsor a box!
People living with dementia and health problems are often isolated, lacking confidence to participate in activities and events outside the home. But they retain their passion for culture. Festival in a Box gives them a unique opportunity to participate in cultural events, from which they might otherwise be excluded.  In 2018 we want to continue the project and expand its reach so that more participants can have this enriching experience – to do so, we urgently need further funding. Each Festival in a Box participant experience costs £250 to cover the cost of artists, training, materials and specialist support. Our goal is to deliver experiences to 20 participants, which means we need to raise £5,000.
No-one should be excluded from cultural life so please help us – sponsor your own 'Festival in a Box' today. Any amount you can give will help us reach our goal!