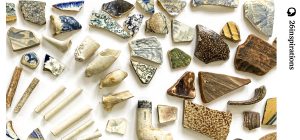 Mudlarking
Come with me and pick the river's pockets.
While the Thames turns its back,
Let's clamber down the rusted steps onto the foreshore
And dirty our fingers right to the root.
We'll upend the stones, lift the cracked skirts of oyster shells,
Prise out the marrowless bones, the lovers' padlocks,
The Tudor breakages and the builders' rubble,
The soles of shoes and heads of brushes,
The hammered coins and the Nerf gun bullets.
This river will outlast its city.
The tide jumbles shards of blue landscape,
Drags broken bricks to reconstruct a word:
LO/NDO/N
Jill Hopper (writer) and Leo Hopper (photographer)
We are a mother and son inspired by mudlarking (hunting for artefacts on the Thames foreshore). We've had a permit for the past few years and enjoy scavenging among the sludge, the gulls and the tied-up boats. Visually it's fascinating because you get a different, low-down perspective on the city. And it inevitably leads to daydreaming about the lives lived by the river over millennia. Our nearest hunting-ground is at Battersea, where Leo's photograph was taken; in 1857, a magnificent Celtic bronze shield was pulled from the mud here. We've not discovered anything on that scale yet, but we will keep searching.