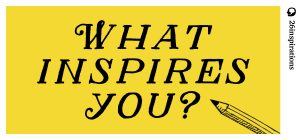 What inspires you?
Sam Gray & Rob Self-Pierson

What do you see as you step into the ocean and look to the horizon? How do you feel when something you've nurtured emerges into the world? 
As creatives, we ponder such questions every day. What? How? Why? And that time we were briefed to give life to a disused shipping container, a project that first brought us together: 'What if?' 
Today, briefed to reflect on what inspires us, we felt we shouldn't respond through our own creative expression. Because what inspires us comes of shared human experience, togetherness and love. What if we turned the question outwards? 
So please get involved. Open the suitcase and choose your pen. Write, draw, play – our wall is your canvas. 
What inspires you?