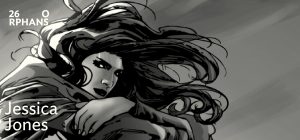 Character: Jessica Jones
Book: Marvel series, Jessica Jones  
Writer: Brian Michael Bendis
26 writer: Kaye Brennan
Brought screaming to life on screen by Krysten Ritter, with an extra sprinkle of David Tennant at his most evil, Jessica offers inspiration for all orphans
Orphaned by accident 
Super
by element.   
Comatose but barely missed.
Meets the devil, 
Hypnotist. Incredible 
performance from Tennant 
[If I may]
JJ 
(like Marvel's most) 
lost a family, made a family, joined a family, left: 
chose
Power Man. He was orphaned too. 
Left, they only want to do 
right. 
Extra might in the Super fight.
Recalcitrant, ghosting authorities 
so she 
might 
breathe.