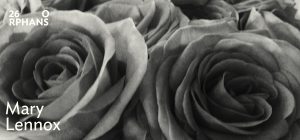 Character: Mary Lennox 
Book: The Secret Garden, and 1993 film adaptation 
Author: Frances Hodgson Burnett and Caroline Thompson (screenplay) 
26 writer: Alex Mawson-Harris 
When orphaned Mary comes to live at her uncle's manor on the Yorkshire Moors, she finds she's not alone in being unwanted – discovering a secret garden. 
'Ohhh Great Maaagic,
please come-to-me.
Send me my father here,
set his Spirit free.'
Mary Lennox
isn't wanted.
But she makes sure Colin is.
'You brought us back to life',
says her uncle, his household, 
and The Secret Garden.
In joy, Mary Lennox learns to cry
into the earth she so desperately comes to want, 
'to plant things. To make things grow'.