Esperanza or Yellow Bells
Tecoma stans
Lacy Rohre, Texas, United States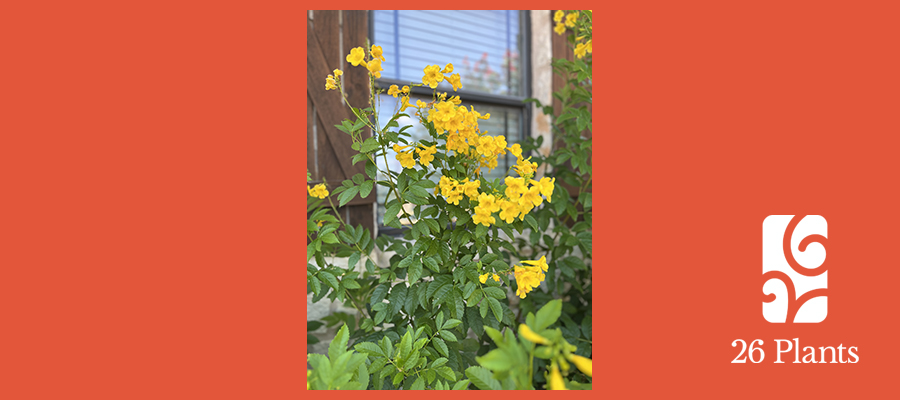 Blooming trumpets sound to announce the Esperanza plant. Sticky, green leaves with skinny seed pods become quartets of yellow flowers shaped like trumpets. Esperanza means "expectation" and I can't help but wonder what it knows of our future.
Like most of the globe, wild weather swings across Texas at an alarming pace. Drought is the norm, winter freezes out its welcome, and summer is screaming hot enough to make your skin crispy. And yet, the Esperanza grows. It resists.
If we listen, perhaps Esperanza is calling us to do more to protect this one precious planet where blooming trumpets sound.
---
It was early May when I emailed saying I'd be glad to participate in the 26 Plants project. Texas wildflowers bloomed on our highways and trails, lending a watercolor paint effect to the spring season. Reds, pinks, yellows, and purples grew alongside our famous Bluebonnets in a lovely, messy crowd.
By June, when I was supposed to be writing, the early summer heat had all but burned the wildflowers away, leaving just the oranges and browns, the more delicate colors shriveled on their stems. If our "Don't Mess With Texas" reputation* doesn't already precede us, 2023 is on track to be one of Texas' most extreme. We've had an unusually high number of 100-degree Fahrenheit days (38-degrees Celsius) – at least 22 in June and July.
My appetite for this project dried up like the rain forecast.
As my deadline neared, I stared out my office window at the plants in our yard that still bloomed, many of them having just survived a historic freeze in 2021. It made me wonder just how these plants endured. I made a shortlist and reviewed local databases from the Lady Bird Johnson Wildflower Center and Williamson County Native Plant Society. I looked for anything to spark my imagination – a quirky scientific name or personified description.
I landed on a member of the "trumpet-creeper family," called Esperanza. It grows wildly, wending its way up my garage wall (either out of sheer tenacity or my inability to tend my flower beds).
With Esperanza's trumpets in my head, I interviewed a Master Gardener who judges the annual flower competition at Colorado State University (also a beloved aunt). She gave me invaluable observations about plants that have their own form of antifreeze to tolerate cold with systems to manage the heat and keep everything circulating with minimal water. She also described what gardeners look for in plants to judge the best of the year – those strong enough to represent their species as seed packets in big-box home and gardening stores.
With that information as my guide, I wrote about Esperanza's trumpet song to us humans in these wild weather times and listened to what the plant was trying to tell me.
*The slogan "Don't Mess With Texas" was created as an anti-litter campaign in the 1980s. While we are quite a prideful state, the slogan has cheekily outgrown its original intent.
---
Image: Photograph by Lacy Rohre