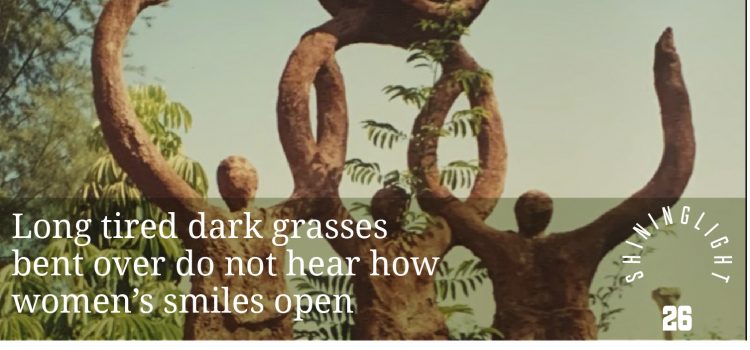 If you watch the steps of the women around you and if you search the eyes they turn to you, you'll hear all kinds of stories.
Here on the Euston Road the traffic never pauses. It drones and squeals past the St Pancras Church. Sirens call and church bells ring the quarters.
Tread into the church gardens and on inside the church. Acoustics change. This is where sharp spasms of life will take their shapes in dance.
Six women will find their focus here. And you know, you'll see and learn, whatever their origins, whatever heritage they've brought here from another shore or continent, trauma stays in the memories of every single one.
Abuse and hate are hard to bear alone. It's hard to find the words. It's hard when you feel you can't master words. It's hard to get the words out. So here in this church sanctuary, young lithe dancers will move and reach their energies to shape these women's stories. A musician keeps track in a constant flow of different textures of dissonance and cadence, crescendo and softening sostenuto, rising and falling words and voices, as we watch hands in coloured gloves holding little suitcases. 
Once a fist stopped a breath, halting the sound from a small child's voice. That kept one of these women safe in a wartime hiding-place, unfound by those who did more harm than anyone could know.
Once another voice took another woman's breath away. In her best, bright, colourful skirt she'd gone out. A voice called out, 'Gypsy scum. What does she think she's wearing?' She never wore that skirt again.
Once. Once. Not once upon a time. That would be easy. This once, the once of each woman, is what tells you where they come from and what they have endured. 
Despair and sorrow are parts of their pasts, the pasts they carry. But now we hear them and we're stirred into their stories – and we share them with ours. Here these women find their youth again, vibrant and strong. Their memories dance their way outside and inside. They're insiders here. Nothing can hold them back. The caryatids in the church's architecture look on in ancient stone, with their own annals, emptied jugs in their hands.
The stories of these women have us in their hold.
Their broken threads, no longer silent, solitary, give new ways to feel whole.
The spotlight of autumn festival sunshine will reveal what we all are. It will show us what it means to be a human being, walking in the gardens, squares and streets of our country's history today. Let's not forget. Look around. Listen. There are many, many stories. Stretch out your ears and hands.
Carmen Lavin
Book tickets for Dancing, Talking, Taboo!