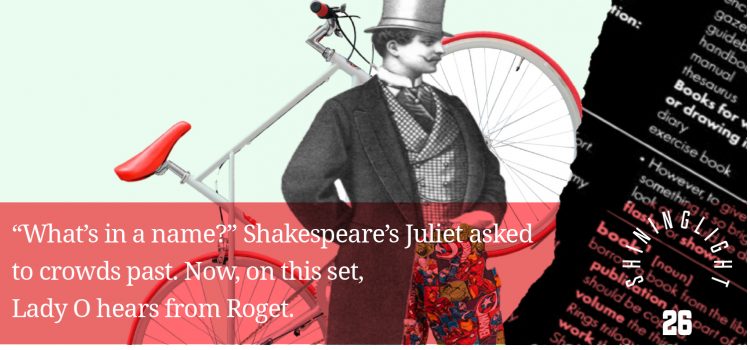 The Importance of Being Exact
A few years ago, I wrote a blog post about how speaking in different languages can change your personality. I was convinced that that the moment my Polish boyfriend and I switched from talking French to talking English marked the beginning of the end for us. Yes, it changed the dynamic, since English is my native language, but I also suspect it changed how I was: less romantic, reflective, poetic; more sarcastic. Fascinated by the power of language and languages, I was delighted to be paired with "A Play Upon Words" by Non Vaughan-O'Hagan for the Bloomsbury Festival.
Words are like jewels
Act One of the play features Peter Mark Roget, best known for publishing the Thesaurus of English Words and Phrases in 1852. Thanks to the magic of dream, Roget meets Lady Ottoline Morrell, who hosted the Bloomsbury Group. The dialogue is packed with rich word play, including puns across languages. 
When I spoke with Non, she shared her view of how important it is to choose the right words:
"As a playwright, about 90% of what counts is the dialogue," she says. 
Non, who was born and grew up in Wales, sees being bi-lingual as an amazing gift which puts a different perspective on things.
"Words are like jewels," she says. "The nuance of a word is really intriguing."
This is something I can certainly identify with, as my Dutch-English bi-lingual son often selects a word from whichever language seems to work best. Some things simply cannot be translated: like "gezellig", an atmosphere which we might try to match with "cosy" but somehow falls short.
"I am very deliberate, conscious, with my choice of words," says Non.
A transformative space
Non has always been passionate about theatre. "I can't recall a time when I wasn't performing," she says. "I love the magic of somewhere that is a transformative space."
From dancing ballet as a child to training long days in drama school, Non has seen all sides of theatrical productions. This makes her brilliantly placed to know what will – and will not – work on stage. "I could be called an accidental playwright," she says. "But I am a better one for having been a performer."
Non's work spans novels, poetry, stage and screen, writing in both English and Welsh. Rigorous in her research, she is also keen to entertain. 
"I want people to enjoy the evening," she says. "The play is zany, though perhaps the audience will also be intrigued by some of the points made by the characters."
Having read the script, I can attest to this. But, as they say in Welsh (I think), "Darganfyddwch drosoch eich hun!"
Charlotte Bookes