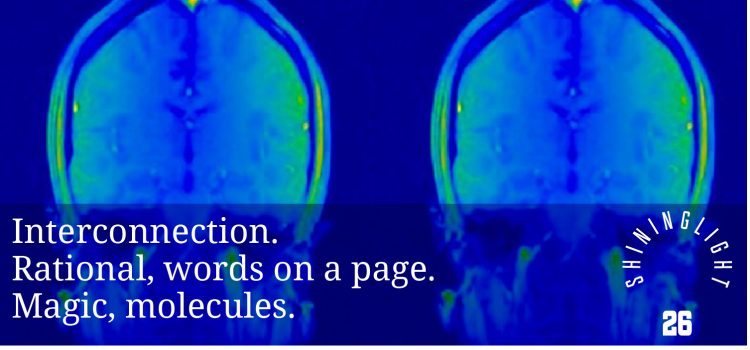 "I would say that I am a neuroscientist, and playwright, but usually the question I get is, how are they related to each other? In my mind, they are both about people and how they interact with each other, and the weird and awkward ways that they fail to interact with each other, so for that reason they both appeal to me."
Anjali's energy is captivating; a delicate mix of level-headed scientist (which she terms her day job) and the quirky, creative element which she passionately uses to pen her plays and projects. Certainly, lockdown has provided the opportunity to brainstorm and create ideas, but the lack of in-person theatre and performing has clearly been difficult. Up until last year, Anjali was a resident of Goodenough College, hidden away in Bloomsbury, and home to a melting pot of students from all across the globe, all studying different disciplines. Despite moving out of Goodenough College, her passion for theatre and the friendships and connections established through Goodenough Theatre Group have not dwindled.
"I've written stories and poems since before I can remember, but writing for theatre is more recent. Theatre as a whole, the magic of it, I fell in love with it! My heart came back to the writing and directing." 
Anjali's own work as a neuroscientist sees her exploring the gap between molecular biology and abstract concepts in cognitive science. Her piece for the festival "Ourselves" is a "good old-fashioned love story", dreamt up from her own experiences as a subject in a friend's study conducted on long-term, autobiographical memory. Brains and bodies navigate uncertain environments, with the creative and rational colliding in a romance.
"I remember thinking at the time that this is such an amazing structure for a story!" she adds, the positive of COVID providing a time for reflection and the opportunity to delve into her own personal experiences and memories. The entire lockdown period affected us all in different ways, and has shaped our own memories and habits in ways that we may not even be aware of. Theatre provides us with a chance to step out of ourselves and find joy and light out of times of darkness and despair.
What next for Anjali? She's just started a post-doc position and is currently penning a comedy piece for a friend, while setting lyrics to music with her partner, a pianist. You can't help but feel buoyed up by her infectious energy.
Charlotte Mackenzie
The performance of Ourselves takes place on Sunday 17 October at RADA Studios. Book Tickets