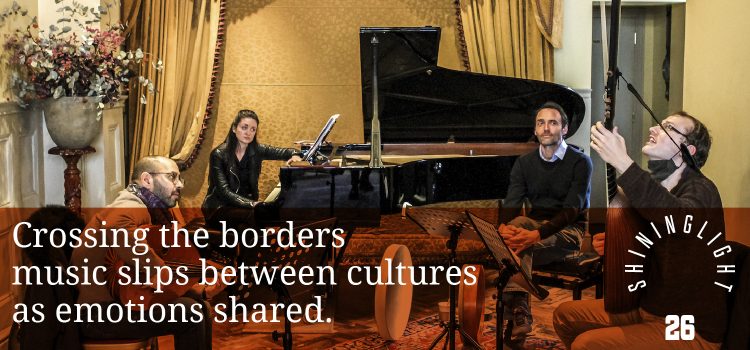 She closes her eyes, ears wide open,
sitting next to the cellist playing Bach,
feeling the currents flowing in musical notes
that lap like water on the shore.
Yet another shore crossed, from oud
to guitar, from crusade and war
to another far place with music on the streets
where you hear the stamp of flamenco near.
No passports to be stamped, the music
waves us through over land and air and water,
such distances travelled from deserts to islands
lured by sirens, on a rising crest of hope.
In hope for peace, play softly piano,
play these notes that trip between the lines
and wash away thoughts of not belonging
in places where you find yourselves reflected.
Here we find the theorbo held high,
impossibly elegant giraffe among instruments,
slow fingers gliding over strings
till touching the head of an imagined child to sleep.
Awake the child sitting next to the drummer
whose bells, metals and shells conjure
dance steps around midnight fires
where the moonlit sea ripples towards sand.
And up and down and along the lute's frets,
slide spindly fingers stretching and curling
like a rainforest insect stepping out
to play on the sunlit side of a leaf.
In the shadow of a cupped hand, the plectrum
picks its careful way, a tightrope walker
plucking notes that speak to all those
with ears to hear: belonging here and everywhere.
John Simmons
Under the theme of Belonging, Caroline Heslop, artistic director of NW Live, brings together outstanding musicians for a concert at Conway Hall that will open the Bloomsbury Festival on 15th October. The music is an eclectic mix of European and middle Eastern traditions, featuring instruments such as the piano, oud, theorbo, lute and many different kinds of percussion. 
By bringing together instruments and music from different repertoires, the overall aim is to explore and respect the power of music to cross boundaries of cultures and to evoke universal emotions that belong to everyone. The music will be mixed with and stimulated by poetry created in workshops facilitated by 26's John Simmons, with writers from the local community and refugee groups.
Book tickets for NW Live Arts concert