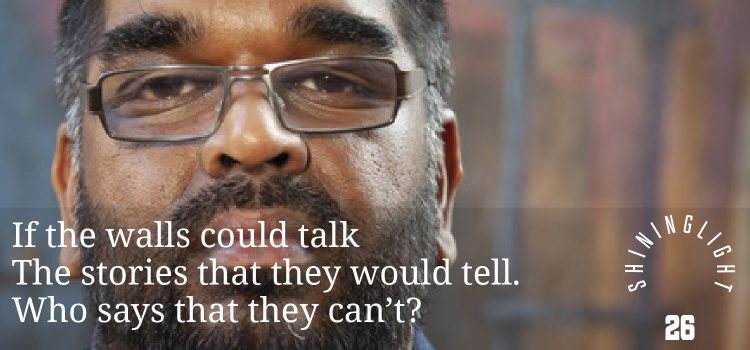 It's time to let the stories out.
145 years of listening. 
Of the gentle absorption of breath and speech.
Each brick a sponge.
Weathered more by words than sun and rain.
Shaped by confessions whispered into the air, condensing, seeping into mortar.
The solid witness to pain, joy, sorrow, confusion. 
Being still, and still being.  
Sheltering parishioners, priests, worshippers, passers-by, all-comers.
Icon of stability, witness to change.
Throughout: standing, listening, harbouring.
Having held the souls in, it's time to let the stories out.
Stories of the desire to settle, to make a life, to contribute.
Of the willingness to work.
Of rejection; hostility.
Of having to fight for the right to a home.
Or walk down your own street without suspicion.
Of the slow, slow stumble towards acceptance, community.
None of us have heard the whole story.
But the walls have.
It's time to let the stories out.
Martin Lee

Martin has written about Mohammed Ali's project Bangladeshi Tales from King's Cross, which is bought to life through projection mapping on 15 October at Holy Cross Church and 17 October at the British Library.

> Back to 26 Shining Light main page