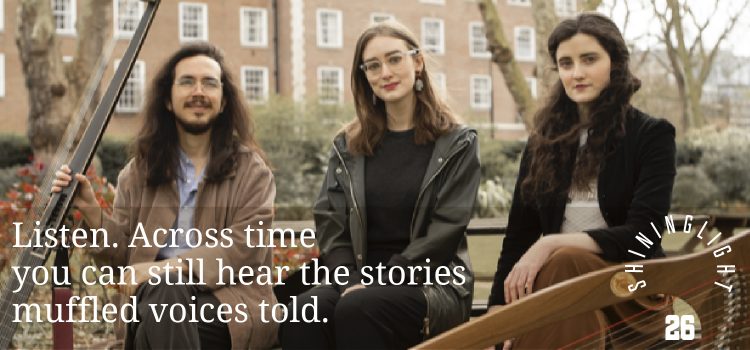 Bringing the salon to the local
"Musique is the thing in life I love the most", wrote Samuel Pepys. Yet, although we know how the 17th century diarist – and his contemporaries – sang, played instruments and made music together, most of the period's songs and melodies have been forgotten. 
A trio of outstanding young musicians are set to change that. Nobody's Jig, who play at The Harrison Pub on 21 October, are passionate about sharing music and songs from past centuries with contemporary audiences.
Ravishingly beautiful music
Lutenist Sergio Bucheli, 23, from Mexico, describes the trio's repertoire as 'folk baroque'. Sergio, who will be playing both a two-metre wide arch lute and a baroque guitar on the 21st, says: "It is ravishingly beautiful music, with absolutely stunning tunes."
"Many of the pieces are played so rarely they don't really exist as scores. We are figuring them out as we go along, adapting them for our trio, while remaining respectful to the baroque period [c1600 to 1750]." 
The trio, which also includes Irish-Swiss harpist Tara Viscardi, 25, and Australian-American soprano Victoria Hodgkinson, 26, see themselves as storytellers. Their repertoire tells lyrical tales of love's sorrows and joys, of working the land and the glory of the landscape, and was originally played in the courts and high society salons of England, France, Italy and Scotland, and in aristocratic Irish homes.
The three formed Nobody's Jig in 2019 when Tara, who has just completed her MMus, was studying at the Royal College of Music and Victoria and Sergio were, as now, at the Royal Academy of Music. Although the Bloomsbury Festival gig is one of their first public outings, due to the pandemic, they are already experienced freelance performers on the operatic and chamber music circuit. 
A passion project
Victoria says Nobody's Jig is a 'passion project'. "It's something we really believe in and are excited about. We hope that the people who come along will be as excited as us about hearing this amazing music."
As well as being inspired by reclaiming and sharing forgotten works, the trio relish the intimacy with the audience that this style of music – and a venue like the Harrison – allows Tara, who will play a hand-crafted, nylon-strung modern Irish harp with features reminiscent of the early Irish harp, says: "This sort of gig enables a two-way exchange with the audience – not the conventional separation between the concert giver and the concert goer."
Although Covid kept Nobody's Jig from the public eye and ear, it did not preclude them from becoming one of the two 2021 Royal Academy of Music/Wigmore Hall Learning Fellowship Ensembles. The prestigious fellowship has allowed them to connect with a wider than usual audience, and to make music with people across community, education, and social care settings. 
"Working with the community takes the ego out of the equation," emphasises Sergio. "You're purely there to communicate."
Rebecca Dowman
Book tickets for An Evening with Nobody's Jig