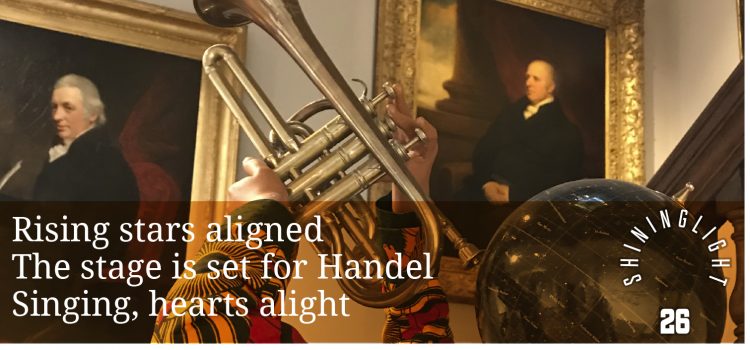 For Samir Savant, outgoing Director of the London Handel Festival, Handel is not just a consummate composer and craftsman. He's more like a friend.
"I call him Mr Handel because I feel I have a personal connection with him," he says. "I've been singing Handel since I was a boy, and I love the excitement and drama of his music."
Beyond that, Samir also appreciates a lesser-known side of Handel. "Like me, he was a first generation immigrant to this glorious city. He was feted across Europe and could have taken up a role in the aristocratic courts of Germany or Italy, but he chose London – a burgeoning city that offered him more commercial opportunities."
For a while, Samir worked at Handel & Hendrix in London, a museum that occupies neighbouring houses in Mayfair where the musicians used to live – 200 years apart. He adds: "When I left, I went down to the bedroom to say goodbye to Mr Handel." 
Five years ago, the pair were reunited when Samir took over as Festival Director of the London Handel Festival. This annual event celebrates the composer's extraordinarily versatile repertoire and nurtures new talent through the Handel Singing Competition.
COVID-19 brought the curtain down early on the 2020 festival, but Samir and his team turned constraints into a virtue. They created Messiah: Reimagined, a ground-breaking performance in December 2020, repeated in April 2021, that blended live singing and recordings. A thousand singers across five continents took part, reaching an audience of 300,000 people via social media.
"The pandemic forced us to think differently," says Samir. "It opened as many doors as it shut. With Messiah: Reimagined, people were singing along at home and commenting in the live chat, which they could never have done before."
"I hope Mr Handel would be proud of how we overcame the problems we faced. He suffered many setbacks, but always reinvented himself in an imaginative, enterprising way."
The pandemic also left the Prize Winners' Recital for the 2020 Handel Singing Competition up in the air. Now, in another twist of reinvention, two of the winners will perform a concert at the Foundling Museum as part of the Bloomsbury Festival. Live and online tickets are available.
The venue is well known for its connections with Handel. The museum tells the story of the Foundling Hospital, where Handel was a major benefactor. 
On 24 October, the winner of the competition, baritone Jerome Knox, and a finalist, tenor Ruairi Bowen, will perform in the museum's Picture Gallery.
"This is your chance to hear rising stars and support them at the very start of their journey," says Samir. "I'm sure both of these young men will go on to become major international artists. We've got form here. Our previous winners include Iestyn Davies and Lucy Crowe."
And what would Handel think of the concert? Samir is confident he'd love it. "He'd be delighted to see new singers stepping into the limelight. And he'd definitely be live-tweeting throughout the performance."
Fiona Thompson
Book tickets for the London Handel Festival Prize-winners Recital