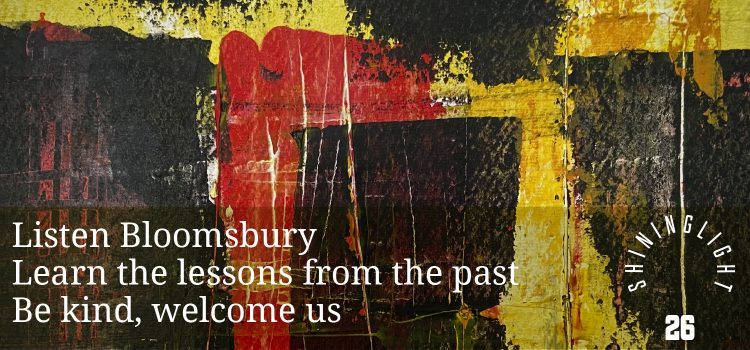 Call me Illush, a stranger here from Germany, my passport stamped 'J' for Jew.
I'm drawn to Bloomsbury: cheap board and lodging, plenty of refugees; dislodged, dislocated, disorientated – in need of a new home somewhere, maybe America, in the meantime, this will do. A British Bohemia, with a museum and a library too. Great thinkers, writers and artists gather in damp terraced houses and dim-lit student halls. Different groups with different outlooks and different plans for a brave new world: Communists, Socialists and Pacifists too. Sometimes, I think there's more rancour than there is at home.
But we're grateful to be here, to breathe, not to feel afraid, anxious but still worried about our families and the friends we left behind. Some are more welcome here than others. For the British, the Communists are enemies too. Who's a spy? Who's being nice because they're nice, and who's looking out for you as they're keeping an eye on you?
We're keen to fit in and 'not rock the boat'. We're told to not draw attention to ourselves. "The Englishman greatly dislikes ostentation… Don't talk loudly, don't read German papers in public, don't compare home to here… We must recognise the temper of a people at war."
My landlady doesn't like our foreign accents. "It's not quaint", she says. She corrects me and teaches me to pronounce W's, R's and V's 'proplee'. "V is for Victory, Fraulein", she says, trying to be helpful, kein Zweifel.
I saw a soldier yesterday from my bedroom window in Gower Street. It was sunny and he was with his family; a young wife and two scruffy kids, a boy and a girl. The soldier swung the girl around his head and she squealed with joy. The boy hung onto his leg, patiently waiting for his turn. And, despite the father's uniform, there was no hint that this was a country at war. I thought, do they not know what's going on in Europe and what's looming on the horizon, what will, undoubtedly, come here? Despite the bright, happy scene outside, I shivered, lay down on the bed, pulled the blanket over my head, and started to cry for the first time since I said goodbye to my mother.
A few months later the bombs came. 
By this time I'd escaped my landlady and moved into a new, clean room with my friend in Canterbury Hall. We overlooked Cartwright Gardens, a beautiful, tree-lined oasis of calm. Tired mothers with small children took refuge on the benches there during the daytime, and at night, sweethearts, 'spivs' and spies shuffled in. One time, heading out for some fresh air, I bumped into a serious-looking man scampering up the stairwell, he apologised profusely in halting English. I smiled and replied, "Alles gut", and it was. I'd just bumped into my future husband.
I finally felt at home.
Andy Hayes
Image by Andy Hayes

> Find out more about the On the Trail of Alien's in 1930s Bloomsbury guided walk

> Book now for a free online talk on the activities of German anti-Nazi activists in 1930s Bloomsbury by Professor Charmian Brinson
> Back to 26 Shining Light main page
Thank you to:
Charmian Brinson
Research Centre for German and Austrian Exile Studies
Institute of Modern Languages Research
Clare George, Archivist, Martin Miller and Hannah Norbert-Miller Trust
Research Centre for German and Austrian Exile Studies
Institute of Modern Languages Research
German exile archives, particularly the 'Changing Countries' oral history project by the Research Centre for German and Austrian Exile Studies (1990s), Institute of Modern Languages Research / Senate House Library