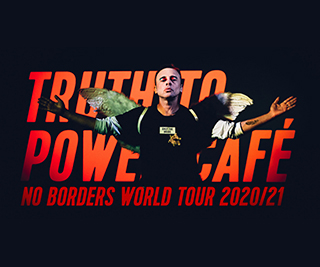 Jeremy Goldstein's Truth to Power Café is a profound reflection on loss, hope and resistance told through memoir, image, poetry, music, and live and spontaneous testimony from participants with stories to tell in response to the question 'who has power over you and what do you want to say to them?'
Speaking truth to power is a non-violent means of conflict resolution, the origins of which lie in the anti-war movement.  In our era of post-truth, and fake-news, speaking truth to power is widely accepted to mean saying something to those in a position of authority who don't want to hear it.  Is it to your parents, a sibling, politician, lover, landlord, neighbour, religious leader, boss, banker, or simply your best friend? It's time to tell them the truth before it's too late.
This internationally acclaimed performance event is inspired by the political and philosophical beliefs of Nobel prize winning playwright Harold Pinter and his Hackney Gang. The Hackney Gang included Jeremy Goldstein's late father Mick Goldstein, and poet polymath and sole surviving member of The Hackney Gang Henry Woolf. For sixty years The Hackney Gang were on the side of the occupied and the disempowered and their allies.  It is these people we invite to take part in the show.
Up to ten participants will be cast in advance from the communities of Bloomsbury Festival and Conway Hall. There is no audience participation. To sign up click here
———————-
Created by Jeremy Goldstein
Directed by Jen Heyes
Verse Henry Woolf
Photography Sarah Hickson (UK) Kate Holmes (Australia)
Banners Ed Hall
Lighting Nigel Edwards
Video Conor MacMahon
Music David Bowie arranged by Sven Ratzke
———————-
"The revolutionary potential of theatre at its simplest and most direct." Lyn Gardner, Guardian
"A priceless repository of living social history, wit, wisdom and defiance." Attitude
"Hits the core of humanity and all of what is going on in the world." Metro
"Jeremy Goldstein's genre-busting roadshow presents a line-up of extraordinary individuals with the power to inspire." Jewish Renaissance
Age Guidance: 14+
Tickets: £12 (£10 conc)

Due to current government restrictions on gatherings and social distancing requirements tickets for Truth to Power Cafe are currently only available digitally (via zoom). Should government advice change and we are able to invite a live audience to this event, those who have already booked will be contacted and invited to join the in person audience. If we have to limit the capacity of the live event, due to social distancing restrictions, those that booked first will be offered a seat in the first place i.e. if the capacity is 20 then those that booked the first 20 tickets will be offered a place in the live audience. If you are offered a place in the live audience but would prefer to watch digitally rather than in person then that is fine and the 'live ticket' will be offered to another booker.
Presented in association with London Festival of Architecture.