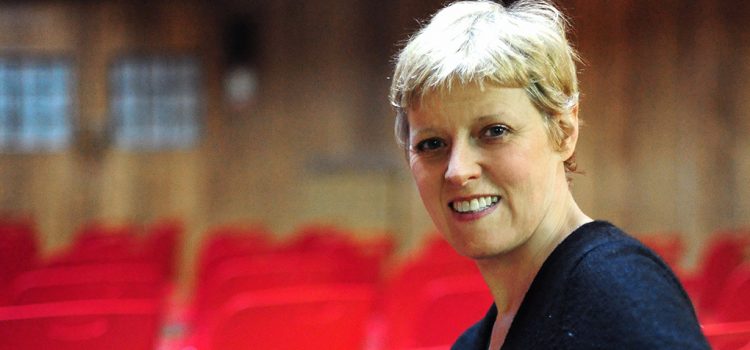 After five years at the helm, Kate Anderson is to step down as Director of Bloomsbury Festival in May having been offered the role as Head of Cultural Programme and Partnerships for the Royal Docks, London's only Enterprise Zone.
Kate became Director of Bloomsbury Festival in 2015, relaunching the Festival after a pause in its production with a new vision as a catalyst for creative collaborations across Bloomsbury's diverse community. She has made an extraordinary contribution to the organisation and has been instrumental in re-invigorating the Festival and deepening its relationships across all the communities of Bloomsbury.
Now in 2020 Bloomsbury Festival is flourishing in both size and stature. In 2019, Kate oversaw the expansion from a five to ten-day model, which included a new Festival hub on Cromer Street, and new artist commissions, as well as the continuation of favourite events, such as Store Street's night-time street party with a twist, and Conway Hall's Bloomsbury Festival ideas hub.  Embedded across Bloomsbury's many communities, the Festival hosts regular partners meetings and gatherings and most recently completed a creative lab allowing academics, artists and residents to collaborate over time and to directly inspire ideas for the next festival.
Kate has established significant partnerships and funding streams – meaning that Bloomsbury Festival is in a great place to deliver its strategy for the next five years including its aim to be the most inspirational local festival in the world.
Maurice Biriotti, Chair of Bloomsbury Festival said: "When I joined Bloomsbury as Chair, I was delighted to find so much in good shape at a festival that punches above its weight in every way. Kate is a force of nature, and her departure leaves me with sadness of course, but also optimism for two things. The first is for the future of our festival given the foundation she has laid in partnership with so many people, not least our steadfast funding partners at UCL, the University of London and the Bedford Estates. And the second is for London and the new initiative she is going to lead. Anything she does will be worth attending, worth following and worth admiring.."
Programming is already underway for this year's festival which takes place from 16 – 25 October with the theme 2020: Vision. The programming team alongside Interim Festival Director Rosemary Richards will build on the plan in place for 2020, and a permanent Festival Director will be appointed for 2021.
Interim Festival Director Rosemary Richards, a long-term associate of Bloomsbury Festival, is a highly experienced creative and media producer, festival director and cultural consultant. She has run large scale arts, media and heritage projects across the UK recently including Gravity Fields Festival a biennial arts and science festival, Leeds Castle Kent 900th Anniversary celebrations and Greenham: 100 Years of War and Peace in 2017 and 2018.
Kate Anderson to step down as Bloomsbury Festival Director