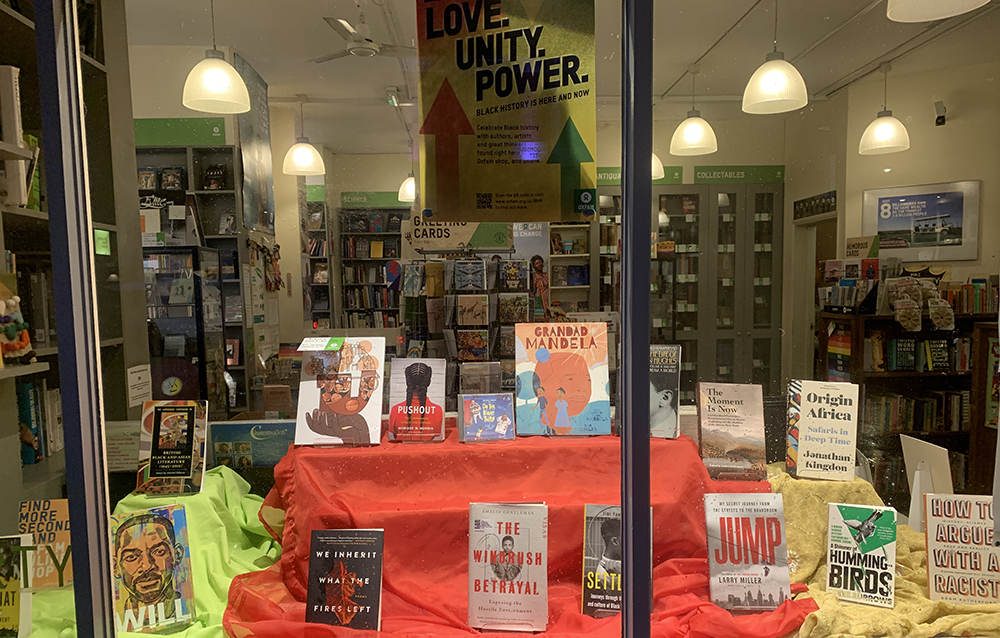 Designs for Life
by Suzie Inman
Inspired by the theme of the Festival (growth) — and fed by titles found during a bookshop crawl through Bloomsbury with Bookshop Crawl UK — I compiled two very different reading lists for life.
Stories of War and Peace.
Glossary of Ecclesiastical Terms.
Fall on your Knees.
A Nation of Shopkeepers.
Notes on a Scandal.
Behind Closed Doors.
From Poverty to Power.
The Sellout.
Transgressions.
All Behind You, Winston.
Them and Us.
Bodies Under Seige.
The Lost Peace.
Dismembered.
A Very British Conspiracy.
An Army Like No Other.
Our House is on Fire.
My Traitor's Heart.
The Stone Angel.
———————————————————-
Seashore Life and Pattern.
Alice's Adventures in Wonderland.
Practical Magic.
Seaside Watering Places.
Gourmet Shops of Paris.
The Stanley Gibbons Book of Stamp Collecting.
Rebel Folklore.
The Moment is Now.
How to Break Up With Your Phone.
The Seabirds Cry.
People need People.
London's Best Playgrounds.
A Shimmer of Hummingbirds.
100 Ways with Eggs.
The Last Act of Love.
Not so Black and White.
We Inherit What the Fires Left.
I Will Take You With Me.
With the Immortals.
(Photograph taken by Suzie Inman on the London Bookshop Crawl)
---
Suzie is a writer who has always thought of herself as an artist who works with words. Her day job is as a self-employed writer at her Porthleven-based company Mightier Words, writing and editing business copy for websites, brochures and magazines. She loves nothing more than delving into the past and researched and wrote both the Porthleven and Helston Town Trails as well as heritage content for the recently renovated Hall for Cornwall. She's worked with agencies including Stranger Collective and the Happy Seven and created narratives for businesses large and small including Visit Blackpool, the Eden Project and Elemis.
Suzie also loves a creative project and has been involved in many, chiefly through 26 Writers, including for the Oxford Story Museum, Woodland Trust, Imperial War Museum and Norwich as the City of Literature. Her short story Coming up for Air was recently published in an anthology of short stories by Quay Words.
Suzie has a Masters in Professional Writing and has been a writer in residence at the Port Eliot and Bloomsbury Festivals and at Bill's Attic in Krowji.
> Back to 26 Writers in Residence
Day 6 (Wed 18 Oct): Suzie Inman