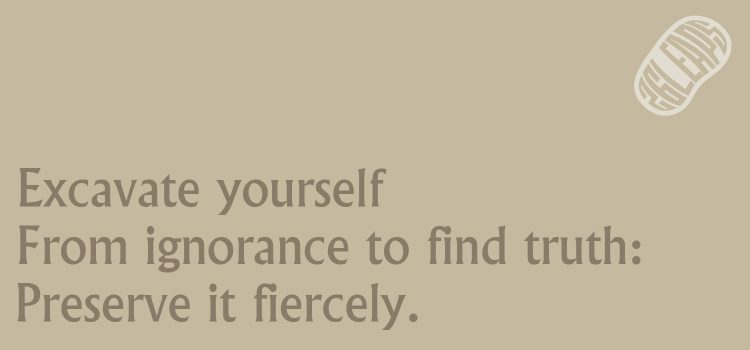 Bex Felton
Irving Finkel

The testimony of Irving Finkel
In excavating dead words we excavate ourselves.
Would that we learn
We are but flotsam and jetsam on life's great ocean –
No masters of Eden or time or space,
But ancients vainly styled in fetid futures of our own making.
Cu-ne-i-form:
Resilience of clay, seed of the written word.
Indelible marks of time, of truth, pressed into our modern minds' eye
To shame our transient ephemerality, our digital myopia,
Which leaves us ignorant of history,
Atrophied in language,
Incompetent of fact,
Careless of the bonds and debts we owe;
A conspiracy of erasure.
This is our great mistake.
Progress is a dead word. Do not be fooled.
Let us see ourselves as we are.
Modern man: you rape the world with the mind of a Mesopotamian.
Shame
On
You.
Leap instead to humility –
The past is not washed away.
See ourselves as we are.
Common in our lowly godliness;
Bonded in banality;
Yet wondrous: each primed in amnio for unfettered mastery of meaning.
Linguistic acquisition is every child's birthright.
Parents! Teachers! Do not dumb down.
Allow young minds to imitate, approximate, appropriate.
Give back the deity we've squandered.
People! Preserve your essence. Write your days: on the page, in ink, by hand.
Yours is the highest form of testimony; an uncut gem for generations to glean and dream from.
Stand for truth. Put no price on it.
Martial your facts and use them lethally.
Do not succumb to the disease of meaning affected by neither logic nor reality.
We have lost much;
But
There is life in the Euphrates yet.
Research story
26 Leaps is a project with a simple, wonderful premise. 26 writers paired with 26 'leapers': individuals from Bloomsbury's storied present and past who have pushed their field forward in some significant way. All the assigned subjects – among them T. S. Eliot and William Morris – are formidable. But as a British Museum institution and world authority on cuneiform – the world's first written language – I considered mine a figure of daunting, and very much present tense, import. 
Irving Finkel is a figure in possession of both majesty and magic. Magnificent of beard, fastidious in language and antic in energy, he appears larger than life in his many lectures and YouTube appearances (a key part of his mission to improve our modern malaise with ancient wisdom). In the academic hush of his professional quarters – a former library of the Enlightenment, where ancient tablets now usurp books in trays climbing up to vaulted ceilings – he met me as a ponderous, exacting, softly-spoken incarnation of his public self. 
There were many things I learned from the extraordinary conversation that followed. When conversing with a man who speaks many dead as well as living languages, be precise with your terms. Do not expect, because you are in the halls of antiquity, to escape Brexit. Prepare to disavow yourself of any juvenile notions of progress. There is no such folly. 
Look harder though – beneath the despair of our 'monkey' politics, the intellectual atrophy we inflict on our children or the havoc we wreak on the world – and you will find a source of hope. People, actually, are quite wondrous. We are each made masters in utero: peerless language machines, poets waiting in the wings. Precision of meaning, capacity of communication – these are in our gift. It's the adults who get it so wrong. 
Do better, Irving Finkel exhorts us. Speak truth, seek truth and embrace difficulty. Remember that words are our most powerful tool we have in our arsenal.
Please do read all the wonderful pieces and take a moment to ponder the great leaps they may yet inspire.