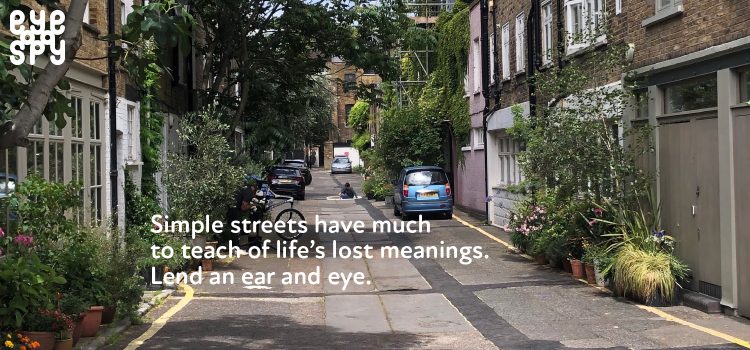 Bloomsbury, London
Sunday 28th June. 12.38pm
19oC. Light cloud, gentle breeze from the west
Humidity: 62%
Pressure: 1015mb
Chance of rain: 21%
Visibility: Good
I turn onto Doughty Mews. The Duke pub rears before me – gatekeeper of this thoroughfare – and the path kinks right. I scurry on, presently becoming lost in what I witness: an artist finding canvas in the concrete at her own front door, slathering it with renewed meaning… pastel-coloured buildings dressed in ivy running untamed across their faces… dusty windows of The Egypt Exploration Society, old paint unpicking from their frames. At a pane above a face appears, bewitched by curiosity and arrested by my gaze. My eyes twitch down, I wander on, a thought occurs, I draw my pen. Licking the concentric circles of my forefinger, I turn onto a new page…
Doubty muse
The best path is that unwandered,
said many times, but not like this:
life is seldom squandered.
Down Doughty Mews I pondered,
is this all to life's great twist?
To only seek what is unwandered?
20-mile-an-hour art is honoured,
daubed on tarmac, painted thick.
A  L I F E   I S  S E L D O M  S Q U A N D E R E D.
Green ivy hung in frozen time – unconquered –
a fringe of emerald cloaking glass and brick.
Is its path not unwandered?
Catacombs far off lay plundered,
here clutched back from the abyss.
We know their lives were never squandered.
In top-floor crow's nest one sits hunkered,
spying on the Duke and all that's his.
By all means take the path unwandered,
but remember, life is seldom squandered.
Alex Fenton