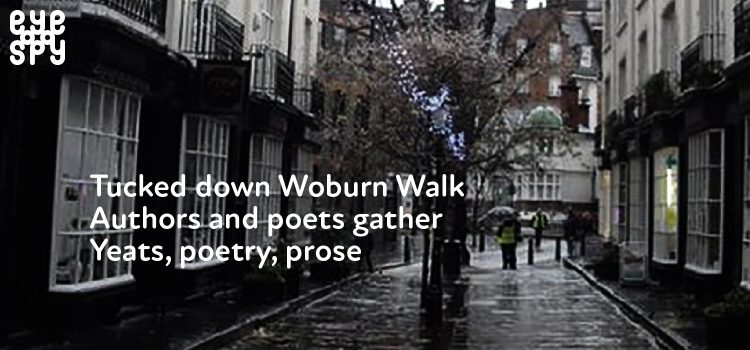 I rather like how 'Woburn Walk' just slips off the tongue; it was named after Woburn Abbey if you must know – we can thank the Duke of Bedford for that. My corner of solace amongst Bohemian Bloomsbury although less leafy than Primrose Hill, is by no means less charming. On Mondays I enjoy to open the house, sharing out the Chianti and cigarettes amongst friends, fellow poets and those who appreciate the charms of the written word. Ezra pours rather too generous measures! We keep the Kelmscott Chaucer in the sitting room, safely on the lectern. If these walls could talk, oh how they would laugh about dear Olivia making me purchase a bed from a gentleman on the Tottenham Court Road – For Jaysus sake, can you believe that every inch added to my expense? Still, my Woburn Walk provides silence and calm away from the hustle and bustle of Euston Road, where beloved number five waits providing stillness in which I can write my poetry and prose while dreaming of Ireland.
You would not believe how London has changed, even from when I was a boy. The underground snakes beneath us, connecting the north with the south. Fear is in the air with war inflicting its ugly ravages on our young, transformed utterly, a terrible beauty is born. Here in my quiet corner of Bloomsbury, far removed from the trenches, I can take a stroll around Cartwright Gardens. Although this crescent may not be so elegant as that of Bath, the Georgian architecture is still somewhat impressive nonetheless. On occasion, I come across students darting around between their classes, sharing a word or a smile before it is swept away in the London air. This is far from the rolling hills and dales, the green hills of my dearest Ireland. Yet, there are worse places to be than Bloomsbury in this dirty old London town.
Now with my fifty-one years I feel that it is time to settle and continue my lineage, for time is now something that is on my side. All the bloodshed during the Easter Rising has made me consider my own mortality I fear. Dear George is such a sweet thing, but I worry that her age will see her grow bored and restless with this old poet. She supports our forays into automatic writing, a concept which I admit intrigues me greatly.
Yet as London continues to grow and flourish around me, there is nothing quite like taking to my desk and dreaming of foreign shores. Bohemian Bloomsbury with its nooks and crannies continues to inspire this old poet.
Charlotte Mackenzie
Image: Christmas lights in Woburn Walk Camden – geograph.org.uk – 1599577 attribution Paul Framer